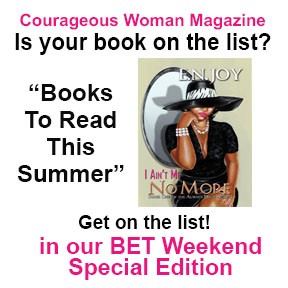 IS YOUR BOOK ON THE LIST!!
Courageous Woman Magazine's BET Weekend Special Edition will list a selection of "Books You Should Read This Summer."
This special edition  will be distributed in print and online
Do you have an awesome book and want more people to know about it? Get on the list! 
Several books have been selected and yours could be included.   The Books You Should Read This Summer list will include your book cover photo and a brief description and your headshot. It's FREE for your book to be on the list (If approved) with the purchase of a #2 or #3 eblast promotional package.
We know there are some awesome authors in our network of Courageous Women, get listed. Magazines will be available online and at our Red-Carpet Launch event June 21, in Los Angeles!
Eblast promotion Includes:
#1 Eblast Book promotion (Basic)
Your book included in Eblast
Single Eblast to profile you and your book sent to our mailing that includes links to your website
Cost: $29
#2 My Book is Boss
An article about you and your book on our website with links to your website
Single Eblast to profile you and your book sent to our mailing that includes links to your website
Listing in the magazine and online under in an article as "Books You Should Read This Summer" (Photo of book, description and your Headshot photo)
3 Social Media Post
Cost: $59
#3 Courageous Business and Book Booster
An article about you and your book on our website about your book and your business with links to your business and your book.
Single Eblast to profile you and your book sent to our mailing that includes links to your website
Listing in the magazine and online under in an article as "Books You Should Read This Summer" (Photo of book, description and your headshot photo)
6 Social media posts
Book Promotion flyer announcing FB Live interviews
Facebook Live interview.
Cost: $99