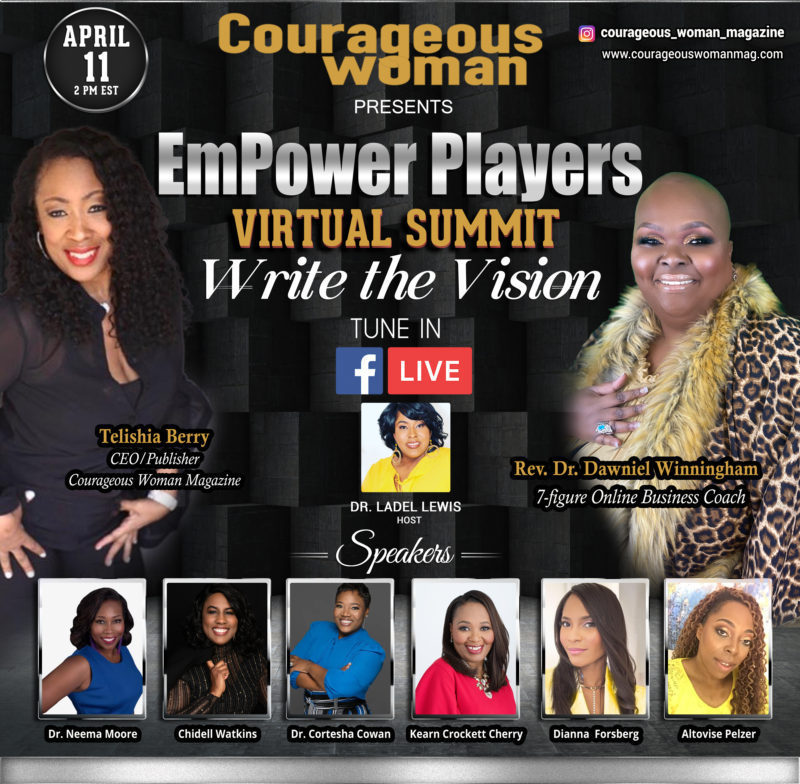 Be sure to tune in Saturday, April 11, 2020
2 pm EST, 1 pm CST, 11 am, PST
LIVE on FACEBOOK – COURAGEOUS WOMAN MAGAZINE
An Empower Player is an authentic, confident, driven woman who is dedicated to using her platform to inspire, educate and empower others?
Meet EmPower Player Speaker,  ALTOVISE PELZER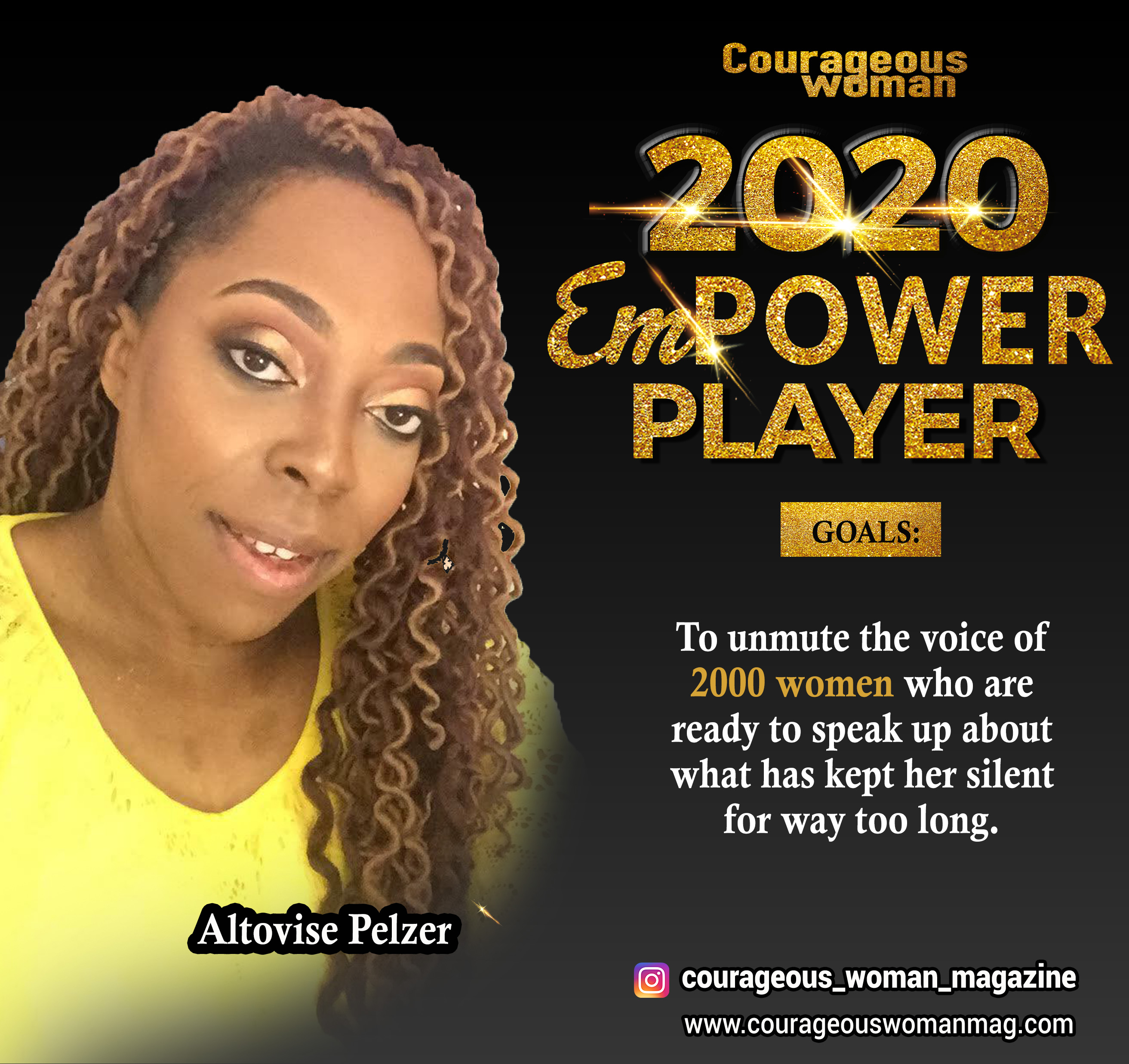 Who Altovise Pelzer? 
Altovise is the introvert that used live streaming as a springboard to becoming an Award-Winning Speaker, Best-Selling Author, and Voice Manager who is unmuting voices across the globe. She is the founder and CEO of the World Voice League, Host of The #SpeakEasy Podcast and founder of the #OurVoiceMatters Blog. Making an impact is at the core of everything she does which was influenced by what she has been able to overcome in life. Homelessness, divorce, rejection, fear, single parenthood…the list can stretch a mile long but the lessons all came to a head when she took a bold move in 2016. 
"There Are Only Two People That Can Determine Your Value…You Or Someone Else!" 
While being homeless Altovise went on a trip. Yea, that may not sound like the right thing to do but it was right for her. She ended up being upgraded to first-class and that was the push she needed to finally publish her first book. Altovise has now authored and co-authored a total of fifteen books in four years. The feeling of becoming #unmuted for her continues to be a driving force for how she runs the World Voice League. Each woman's voice has the potential to educate and empower another woman. 
An Empower Player uses her skills and abilities to empower others, how has your work supported others?
Through the #OurVoiceMatters Blog and The #SpeakEasy Podcast, Altovise has strived to bring light to the stories of women who are creating history every day. She encourages women to write, speak up and become active in supporting those who need it most. When possible, the World Voice League makes contributions and gifts to those in need to prevent or support the eradication of domestic violence, homelessness, child abuse, and human trafficking. As an advocate, Altovise has spoken during numerous events to empower women who have been affected by domestic violence. 
On the World Voice League Community Facebook page you will see daily posts, articles, videos and words of encouragement for all to see. Altovise believes that support makes the biggest impact when it is married to consistency and wisdom. That is what she incorporates into the World Voice League Accountability Membership. She meets weekly with women from many different industries to inspire them to consistently show up and speak up because someone needs what they have. 
Tell us about your business?
World Voice League is an expanding community of female Speakers who are determined to share their knowledge to create business opportunities, change legacies and be the change that is needed globally. Each member has either started a business or wants to start a business that they can use to create social change in one of these five areas: Childhood Abuse, Domestic Violence, Human Sex Trafficking, Homelessness, and Poverty.
It takes a village, so the World Voice League has become the Virtual Community Center of Hope in a time where people need it most. With live events, an annual virtual summit, digital resources, and a virtual accountability community, there are opportunities for personal development and business growth. The glue that holds it together is the phrase "Each One Teach One" which allows community members to do a live expert training.
Each February we hold the World Voice Summit, which is a month-long virtual summit of international speakers who want to empower and educate globally. Speakers have backgrounds that range from Heath & Wellness to Real Estate and Investing. We pride ourselves in presenting a "no fluff" platform where attendees can access REAL and RELEVANT strategies.
What are your overall goals for 2020 
To unmute the voice of 2000 women who are ready to speak up about what has kept her silent for way too long. 
What's next on your Empowering agenda?
Altovise is on the move and as the world adjusts to a new normal, the World Voice League will continue to unmute the voices of women. Through virtual summits, The #SpeakEasy Podcast, The #OurVoiceMatters Blog and live streaming you will receive the motivation you need to become #unmuted! New books and journals will be released soon so stay connected by joining the #worldvoiceleague Facebook Community. 
What is your definition of a Courageous Woman?
Being that Courageous Woman by Altovise Pelzer
Being that courageous woman takes dedication to the journey more than the destination.
It's an ever-changing mural of people and conversations that feed a passion.
It's saying no for self-preservation.
It's walking away from all forms of manipulation.
Being that courageous woman means refusing to take part in mental castrations.
It's refusing their declaration of your elimination.
It's birthing Kings and Queens to an unrelenting population.
It's becoming the healer of a nation like a farm irrigation.
Being that courageous woman requires education married to implementation.
It's the linked arms of protest becoming our means of reconstruction.
It's the steps we climb to rectify discrimination.
It's the hollow bullet piercing through decades of gentrification.
Being that courageous woman feels like the deconstruction of visual identification.
It's the blatant prioritization of female elevation.
It's the acceptance that your love creates new visions.
It's the appreciation of being the light within any conversation.
"Being That Courageous Woman Takes Dedication To The Journey More Than The Destination"
How can readers connect with you?
The Courageous Women Magazine readers to connect with Altovise in two ways. First, come join the conversation in the #worldvoiceleague Facebook Community. There we bring together people from all over the world to share their voice. It is a great place to network and gain access to new opportunities. Second, go and listen to a recent episode of The #SpeakEasy Podcast and see how Altovise is empowering the world by unmuting one voice at a time. Catch a recent episode by going to bit.ly/speakeasypodcastshow
GET FEATURED in our MAY 2020 Special Edition Mama's Makin' Moves
Fill out the form below and one of our staff members will contact you