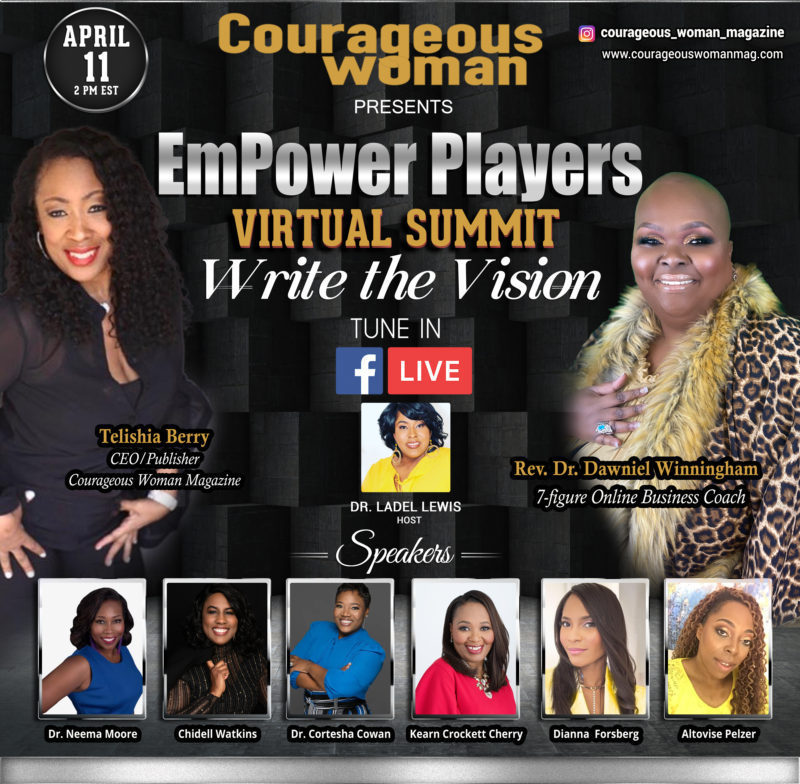 Be sure to tune in Saturday, April 11, 2020
2 pm EST, 1 pm CST, 11 am, PST
LIVE on FACEBOOK – COURAGEOUS WOMAN MAGAZINE
An Empower Player is an authentic, confident, driven woman who is dedicated to using her platform to inspire, educate and empower others?
Introducing EmPower Player, Chidell Watkins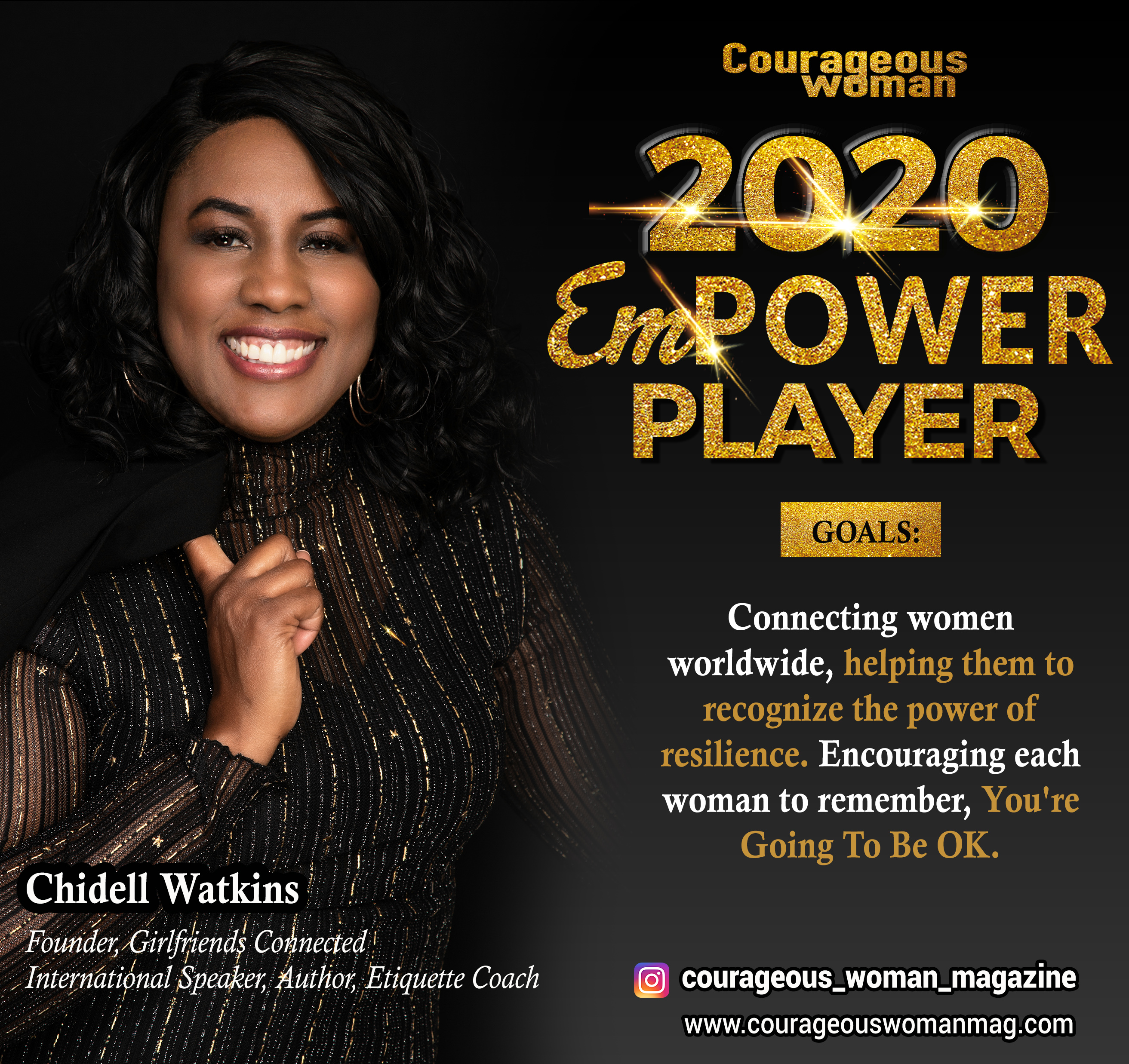 Who is Chidell Watkins? 
Chidell Watkins, known as Chidell Speaks, is a published author and International Speaker.  She shares the power of resilience in overcoming a painful experience of rape at the age of 18.  Growing up in South Central Los Angeles, she drew strength from the five generations of women in her family and the recent #MeToo movement to tell an honest and inspirational story of her experience.  She is the founder of two organizations; Girlfriends Connected (connecting and inspiring women in many areas of their lives) and Etiquette Plus (offering programs designed to enhance a person's individual behaviors for the preparation of life's many experiences)
Somehow your smile helps to get you through even when you wonder if you can. You can get through this. Push past your pain, it'll get better.  #YoureGoingToBeOk
It is her life's mission, desire, and duty to help others the way her grandmothers and the 5 generations of strong women in her family did for her.
Chidell recently spoke in Paris, France and is dedicated to sharing her story globally, hoping to make a difference send a powerful message that "You're going to be OK!"
Girlfriends Connected was founded on the premise of gathering women to support,  encourage, inspire and connect. 
It has been said that a large group of women when together at one time can not get along.  
Girlfriends Connected has dispelled this myth in that we realize that no matter your culture, economic status or geographical location,  we all have something in common. We Are Women, We are Girlfriends Connected! 
Etiquette Plus teaches and coaches children, teens, and adults how to recognize and define their own inner-self, inner-beauty, and inner strength. Our goal is to help people appreciate the art of good manners and proper etiquette.
We help them enhance their confidence in any situation, giving them an edge, both socially and professionally.
Our classes teach lifelong skills, self-control and, discipline. These are the qualities that set apart the leaders of today — and tomorrow!
What are your overall goals for 2020? Connecting women worldwide, helping them to recognize the power of resilience? Encouraging each woman to remember, "You're Going To Be OK."
What's next on your Empowering agenda?
What's next on the agenda is to continue the Girlfriend Connected B.R.U.N.C.H tour. Taking Girlfriends Connected to the masses, connecting women across the globe.  
What is your definition of a Courageous Woman? 
My definition of a Courageous Woman is a woman who despite her challenges and obstacles, goes for it anyway whatever 'it's is.  She looks at fear in the face and takes the chance anyhow. She is strong, she is resilient, she is courageous.  
How can readers connect with you? 
Readers can connect with me via phone email website and social media. 
    213-347-4432
girlfriendsconnnected4u@gmail.com etiquetteplus4u@gmail.com 
IG @girlfriendsconnnected 
     @chidellspeaks
FB @girlfriendsconnnectedaz
GET FEATURED in our MAY 2020 Special Edition Mama's Makin' Moves
Fill out the form below and one of our staff members will contact you