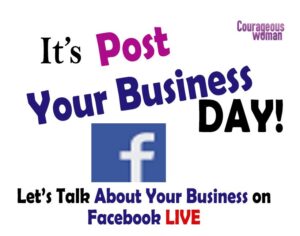 COURAGEOUS WOMAN
Promote Your Business Day
Thursday, June 28, 2018
Starts at 6 am EST
Post your business flyer, Business card, or just write the details about your business on our Facebook page
There are so many amazing women in the Courageous Woman Network who have businesses, products or services.  And if you're one of those women with a business, there's a chance you may need services that someone in our network might offer. That's what our promote your business online networking day is all about.  This Thursday, June 28, you can post your business cards and flyers on our Facebook wall.  It's a FREE all-day promotional event including FB Live interviews and giveaways.  Be sure to post your business and tune in to our FB LIVE sessions. You could be selected to come on FB LIVE and talk about your business.
All you have to do is LIKE our FB page and subscribe to CW via the link on our side bar or the popup form.
Post your business starts at 6 am EST Thursday morning!
Tune in to listen to speakers, business tips and more.
Jumps start your business marketing NOW!
11:30 am EST (8:30 am PST) Guest Speaker – Ladel Lewis "Confessions of a Likeabilty Expert"
Are you ready to become an author? Are you stuck on the first few pages? Let us show you how to get unstuck and get your book done. It's time to see your book in your hands!
Girl, What's Your Side Hustle?
1:30 pm EST (10:30 am PST) Guest Speaker- Shannon Griffin – T-shirt company
How to make money doing what you enjoy –  Marlynne Cooley – Audio narrative producer
Be part of our 3 new anthologies
Write Your Book NOW
Be part of our new anthologies
3:00 pm EST (12 pm PST) Guest Speaker – Elizabeth Colen – Fitness Expert
Be part of our new 3 anthologies
Click to LIKE us on