Carol Boss, a mother, and grandmother pivoted during the pandemic and teaches others how to win in the stock market with options.
"The stock market is one of the biggest opportunities I have experienced in my life that has allowed me to create more in the past year than I have in the past 18 years."
We spoke with Carol Boss about her journey and how she helps individuals win in the stock market and her upcoming event, Generational Self Discovery, October 22nd-25th in Raleigh-Durham, NC,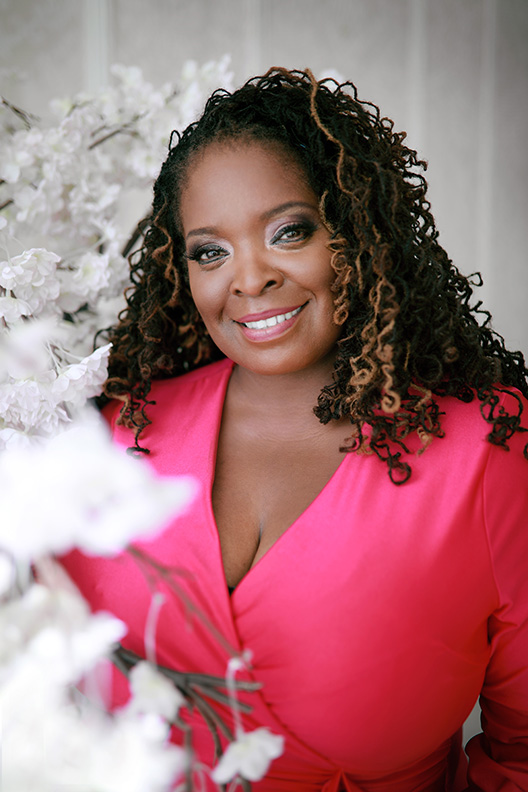 Please introduce yourself and share your backstory of how you got into trading.
I am Carol Senee' Boss, a mother and grandmother, who has worked as a hairstylist for over 16 years and owned my own salon. After managing my three young daughters' success in landing multiple TV commercials with major brands, I launched a business to manage other actors in film, TV, and commercials in the Los Angeles area. Then life happened. I lost both of my parents in the same week, my job became single after 18 years–all in 30 days, then the pandemic came and changed the world. Acting and beauty services became non-essential. And because of that, sprinkled with desperation and emotional pain, I gained interest in the stock market and studied eight hours a day during the pandemic to see what was essential to America in the stock market. I had already taken several personal development mindset training courses before all these catastrophic events happened at once, which helped me to navigate through the tragic events and bounce forward in my faith. Instead of experiencing post-traumatic stress syndrome (PTSD), I experienced post-traumatic growth. I enrolled in a stock options course and worked with study groups and classmates to increase my knowledge. I was able to monetize my fundamental research and support others through a monthly membership subscription called the Boss Calls. I had no other income that could replace all that was lost and me being my mother's only daughter, I was left with sorting out her affairs. I encouraged my daughters to learn how to trade stock options as well. Now they are thriving in the pandemic. Releasing over 100 pounds, reinventing myself, and watching people reach the success of their first goal of six figures within two months inspired me enough to believe that abundance in all areas of my life is my birthright. I was worthy from birth to have and experience a plenitude of opulence. I am excited and in total gratitude to be able to share stock options with people. I love to trade, and I love my trade tribe.
Explain how your services work and how they benefit individuals. 
The Boss Calls is a 6-days-a-week program where there are calls every morning, Monday-Friday and a study group on the weekend. I created the Boss Calls as a platform to support all walks of life in their journey of stock option trading.
Do you believe that your work and training in personal development helped get you through the turmoil you experienced in the last few years? 
I always say to myself, I have what I have because that's all I think I can have. I know that the level of emotional intelligence I have gained, being able to accept and acknowledge all things, along with building a great relationship with my word through the experience of mindset training, I have made some unrecognizable transformational shifts in my life in my health, finances, and relationships through consistently doing personal self development work. Also, I felt in my struggle of losing my parents, I gained a high level of patience and gratitude for life. I know how powerful it is to stay present and leave the past where it belongs. 
Who are you trying to reach?
People who love what they do, but currently, however, don't have the liberty of time. People who love what they do and don't have the finances they desire. People who're interested in another stream of income or their sole source of income. Either way, the goal is to create generational wealth and continuously increase one's emotional intelligence so they can create a life beyond what they thought was ever possible. All I can say is, I have an age range from 19 to 72 that are on my Boss Calls.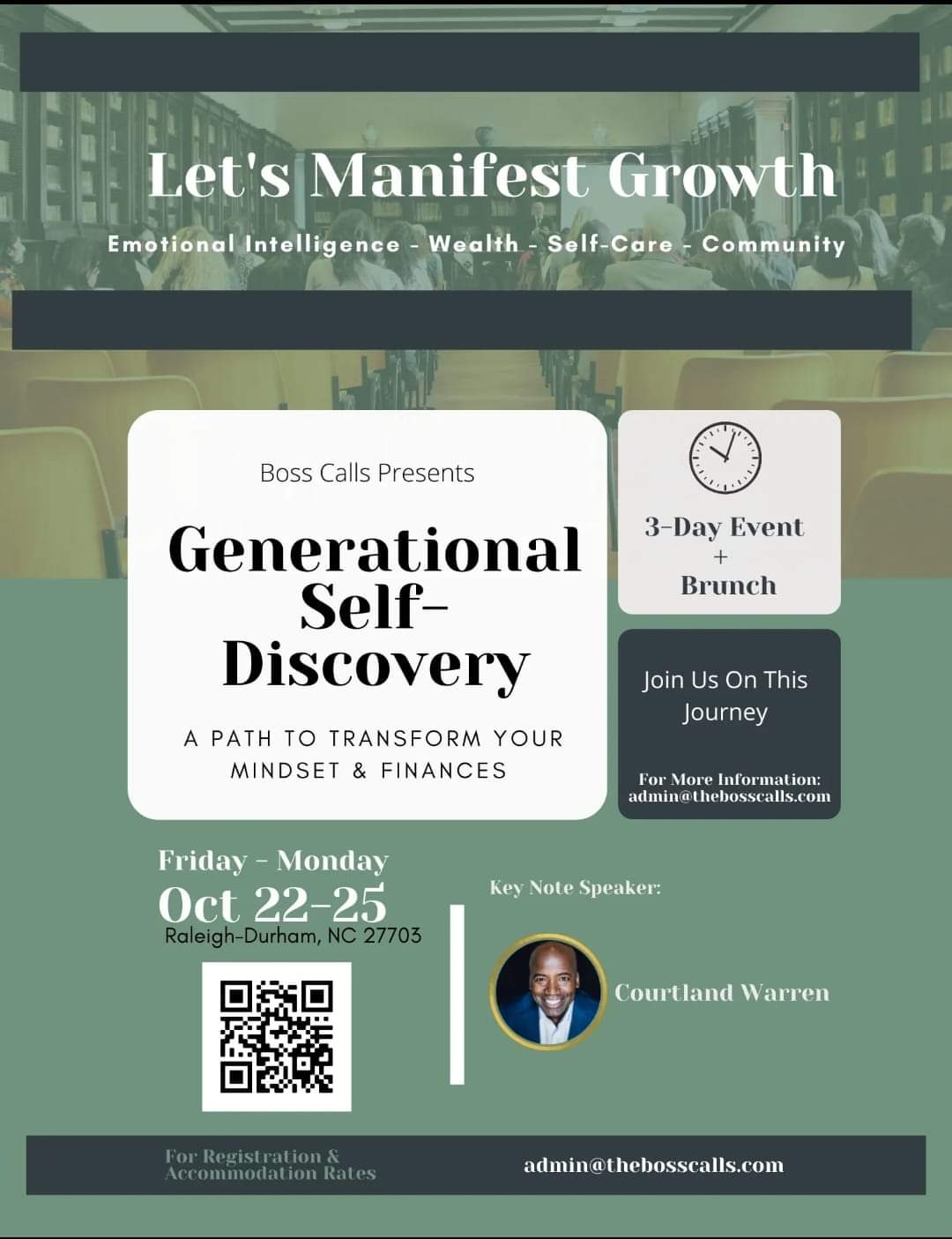 Tell us about your upcoming event and the motivation behind it.
You're invited to our Generational Self Discovery event from October 22nd-25th in Raleigh-Durham, NC, with Keynote Speaker Courtland Warren. Courtland is an authentic and relevant thought leader and master facilitator in large group awareness training. On stage, he looms as an intriguing combination of power, humor, and empathy. Courtland's certitude stems from his stated purpose, "to make new the thoughts of people about what they are capable of being." Courtland has over 15 years' experience as a transformational speaker and workshop facilitator and has added value to industry titans Coca-Cola, UPS, GE, Williams Kimberly Clark, and Chick-fil-A. Today, Courtland is a pertinent contributor to empowering people to raise their resilience quotient in order to live a meaningful life. CourtlandWarren.com 
This weekend will be a path to transform your mindset and finances with a Black Tie event on Sunday evening to follow and concluding with brunch on Monday morning. 
What inspired me to have this event is what this kind of self development work has done for my children, friends, strangers, and me. I have seen several transform their health, bank balances, relationships, self-confidence, and more through this kind of work. I am committed to cultivating a safe space where my trade tribe, friends, and family can make their best better and stretch their beliefs on what they thought was possible.
I can say that not long ago, I was all over the place and thought I was not good enough to even be worthy of the life I have created now. Being "whole" is what I wanted; however, I didn't have the tools to create wholeness for myself until I became committed in doing whatever it takes to make it happen. 
The registration link to our Generational Self Discovery Event will be sent to you to fill out and inform you of the weekend's activities and time commitment schedule.
If you have more questions regarding the event, the upcoming Boss Calls Stock Option Course in November, or participating virtually, contact us by calling 310-980-4008 or emailing thebosscalls@gmail.com including your name and phone number. 
Disclaimer: I am not a financial advisor; do your own due diligence. Fundamental research is shared for educational purposes only.