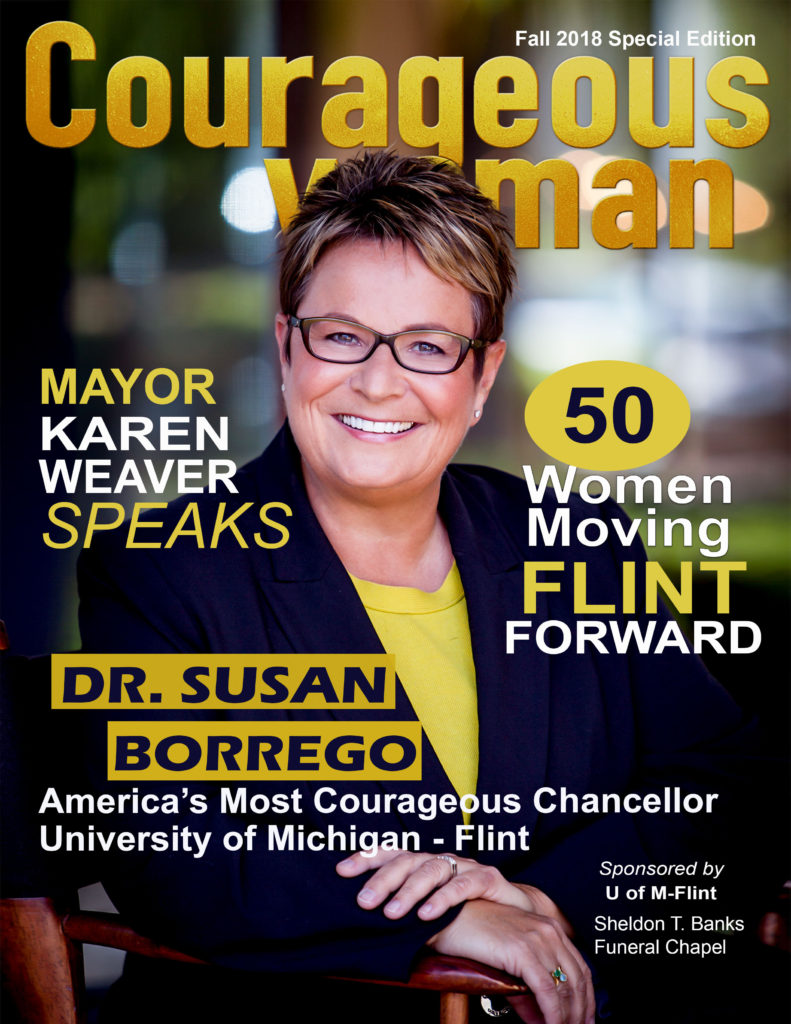 America's Most Courageous Chancellor
An interview with Dr. Susan Borrego
One of the toughest, most resilient cities in the country has one of the toughest, most progressive chancellors in America. Dr. Susan E. Borrego is the epitome of what it means to be a courageous woman. Rising from the ranks of an emancipated minor to chief executive officer at the University of Michigan-Flint, she can relate to those who had a less than stellar childhood. She can connect with those who encountered systematic challenges and empathize with the disenfranchised, always keeping her eyes on excellence. Her life is a testament of what can be achieved with the support of "the village." Let's hear her courageous story.
What led you to becoming an emancipated minor?
It wasn't one thing. My family struggled for a long time. At the age of 15 , my mother told me to get out. I didn't know what to do. I sat on the curb for several hours trying to come up with a plan. I finally knocked on the door of a girl I played basketball with because her parents were nice. They let me stay with them until we could figure out next steps, and I ended up living with them until I graduated from high school. I became an emancipated minor, finished high school, and moved out west. There were lots of times I wanted to come home, but without a home base, I just kept moving forward.
Every day  I realize that my life could have gone in a completely different direction.
CW: What courageous women inspired you?
There have been all kinds of courageous women in my life. I couldn't begin to name them all. Among them are Olympians like Wilma Rudolph. My grandma inspired me. She was a tough lady with a big heart, she worked at a machine shop in Detroit.  She never had very much, but she put one foot in front of the other and lived her life. Every day. My daughter really inspires me as well. Her commitment to justice has been a huge inspiration to me. Additionally I had a college professor named Helen G. Wilson. She worked at a college that had some pretty strict requirements. We described her as having a stray cat complex", She really cared about "strays" us and our success and was especially supportive of those who didn't fit in any particular box. I named my son Bryce Wilson after her. He had a son two months ago and whose middle name is also Wilson.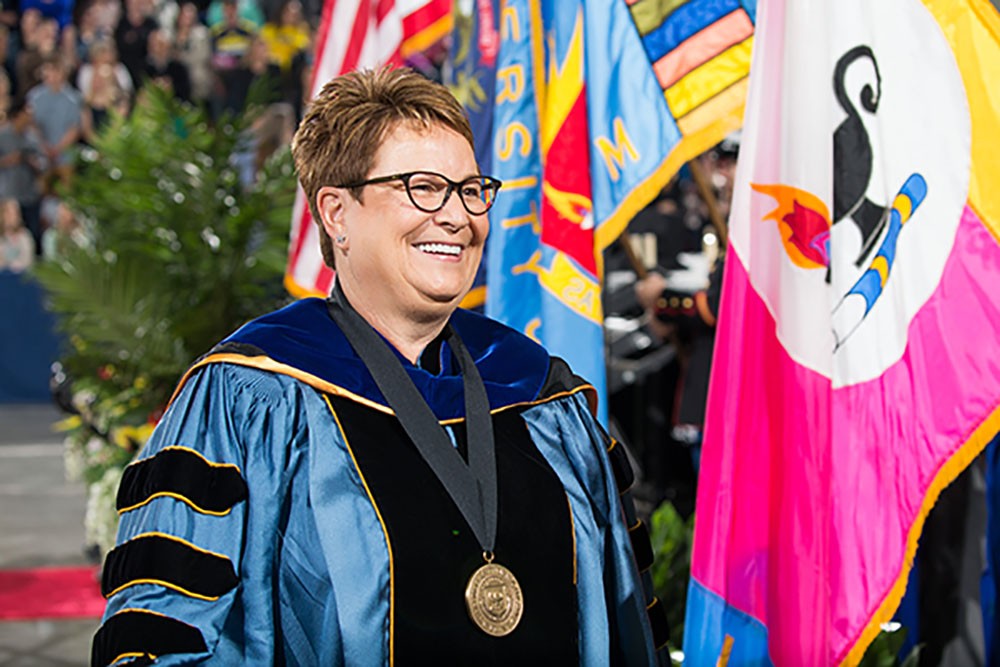 How did you find your way to Flint?
A search consultant called me about a reference for a friend who was going for a job in Ohio. At the conclusion of the interview, he said, "I have a place that would be a great match for you." I asked where, and he said, "The University of Michigan-Flint." I laughed because I wasn't looking for a job. It was November. I was sitting on the beach in California reading the paper. There was no way I was going back to Michigan. He sent me the information, we talked a couple of times, and he encouraged me to enter the search. I came to town for an interview and walked away thinking I would be disappointed if I didn't get the job. The campus was beautiful, there was good work going on, the citizens of Flint are great, and the university is fortunate to be in downtown Flint. I received an offer, and we packed up and moved to Flint.
Why is it important for U of M to have a presence in Flint?
The University of Michigan-Flint belongs to the community. It's part of the community.
A university usually identifies and pursue a community where they can generate revenue. More than 60 years ago, the citizens of Flint lobbied to bring a U of M campus to the city. The goal was to provide access to top quality education and degrees and enhance life in the region. A millage was passed, and Charles Stewart Mott made a significant financial contribution to make U of M a reality in Flint.
Since then, the university has been an important anchor in the city. It's important because it's our home. And you can't live in a home as an educational center ignoring the community you are in.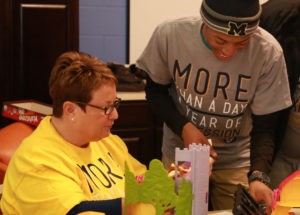 We see you are a huge supporter of women's professional sports, what's the story behind your commitment ?
I played sports my whole life. I used to play basketball, volleyball, and softball, and I ran track. I'm just somebody who loves sports. Women's athletics are great to watch. I'm a fan.
What courageous women inspired you?
There have been all kinds of courageous women in my life. I couldn't begin to name them all. I had a college professor named Helen G. Wilson. She  founded of the Humane Society in town and really cared about those of us who didn't fit in any particular box. I named my son Bryce Wilson after her; he had his own son two months ago whose middle name is also Wilson.
In your current role, how are you supporting other courageous women in the Flint area?
I'm a person who really believes in paying it forward. I'm a product of "the village." So in my work, I look to be supportive. Whether it involves hiring, contributing financially,  creating new opportunities, or giving my time, I'm supporting those who want to make a positive difference. I'm a product of "the village." So, in my work, I look to be supportive.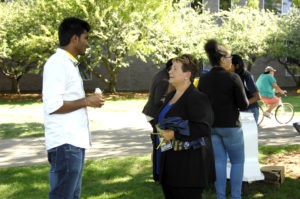 How is the university helping to move #FlintForward?
We are the anchor institution in downtown Flint. I've been an environmental justice advocate for more than 25 years. During the water crisis, our faculty were among the first on the ground mapping pipes; we provided nurses to assist the community, distributed water-related supplies, founded a free water class every semester to educate  residents, and much more. There were times I moved my meetings to downtown restaurants because business was slow  and people were afraid to eat there because of the water. From a public relations standpoint, the media was pretty tough on Flint. We had to find a way to continue to tell stories about Flint; I talked a lot about a parallel narrative. There certainly was a crisis that needed to be addressed; we couldn't write Flint off, and we had to focus on the positive strengths of UM-Flint.
Could you tell us about some notable partnerships established within the community under your leadership at the university?
We partnered on the Flint Promise, which will be very important for students in our community. We were also instrumental in working with community partners to open the Great Expectations Early Childhood Program at Cummings. Economic development is another big focus of our partnerships.
Our Innovation Incubator supports entrepreneurs, small businesses, social enterprises, and nonprofits. We built a program specifically for neighborhood businesses called [IN] on the Road, where we take our business boot camps to teens and adults where they live, in the neighborhoods. It's free, funded by local foundations.
Our University Center for Community and Economic Development provides research support for municipalities, economic development, and community leaders in the areas of economic and community development, and innovation and entrepreneurship. These are just a few examples of the many ways UM-Flint partners with the Flint community.
When you are not busy being a chancellor, what do you do in your spare time?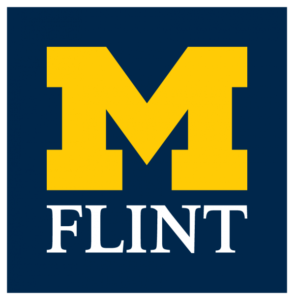 When I'm not playing with the grandkids or reading, I'm trying to get to  an athletic event somewhere or to watch one  on television. Growing up loving softball, I've been fortunate to attend some University of Michigan Ann Arbor softball games. Carol Hutchins, the head coach, is the winningest coach in NCAA softball history. I also love the water, so I boat, fish, and paddle board.
What's next for Dr. Borrego?
I'm really immersed in the priorities at the University of Michigan-Flint and getting our strategic plan into action. What matters to me is that I continue to work with people who do work that matters.
Anything else you would like to share?
Go Blue!
SEE THE FULL ISSUE