Niki Shadrow Snyder has always been a "make it happen" person. She's a wife, a mother of four, an entrepreneur, a magazine editor, a philanthropist, and an eternal optimist.
What is a "givefluencer"?
The word "givefluencer" shifts a paradigm and redefines what it means to be an "influencer".
How have you been a "givefluencer".
I have been a "givefluencer" by enlighting and empowering others to make "giving" a way of life, which feels like an evergreen accomplishment.
Tell us about Project Pop Drop?
My husband, John, and I started Project Pop Drop on our first date. Our small business sponsors a monthly dropoff at a different homeless shelter each month. We spearhead these donation events with our children, and with local businesses and schools. We call this our "Social Responsibility System". This is the root of why we call ourselves "givefluencers". We give by example. We were honored by the White House with a gold medal and the President's Volunteer Service Award. We contribute to delivering life-saving supplies and feeding over 90,000 meals per month for people experiencing homelessness.
"A Courageous Woman turns challenges into opportunities"
What are some of the other projects you and your husband are working on?
We are currently about to launch our first online course called "Giving While Making a Living", and a book shortly thereafter. We are also collaborating with the producer of a television show called "GIVE" on Oprah's OWN Network.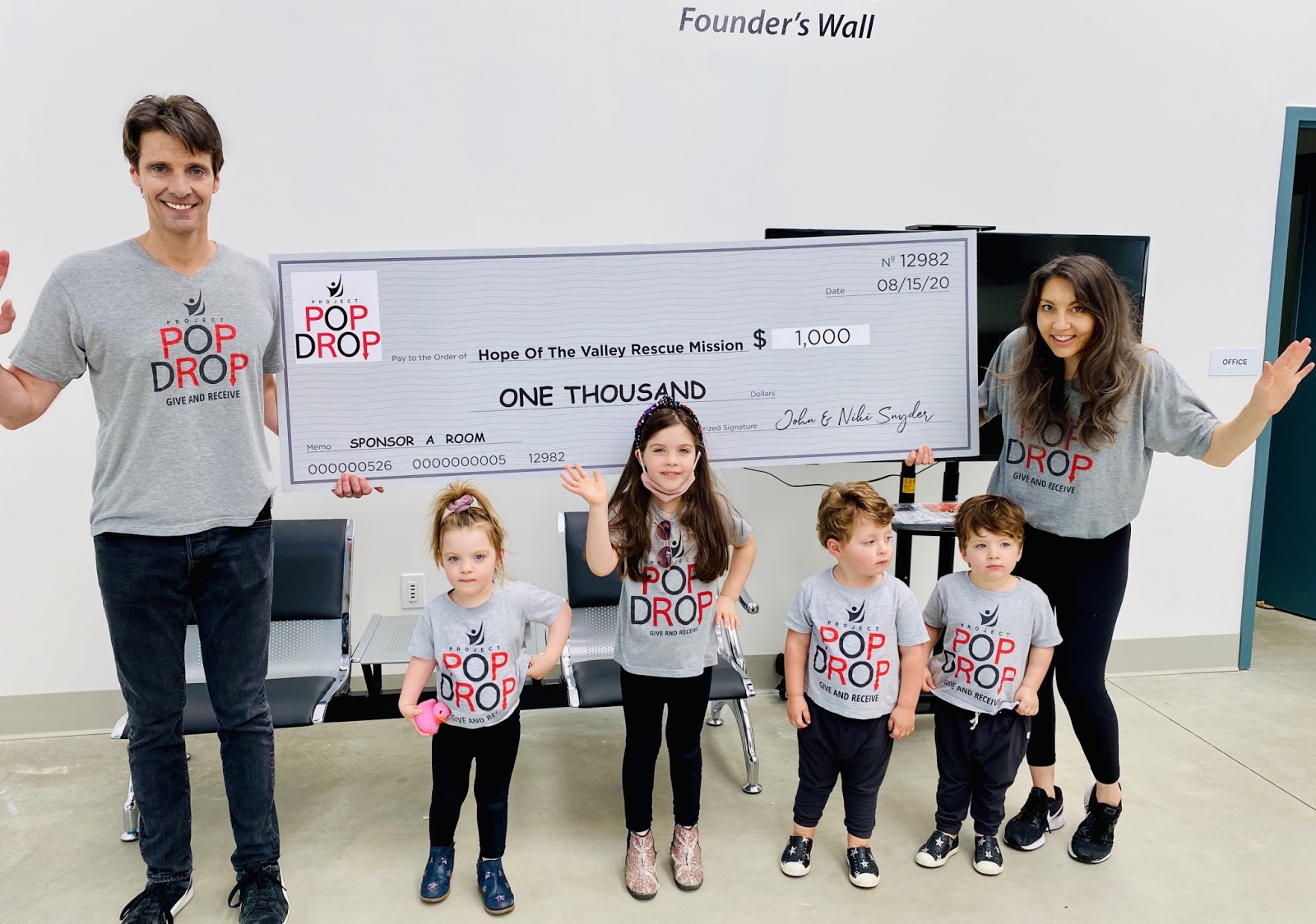 How does a businesswoman, a mom, a wife, and a "givefluencer" balance work and family?
Family is everything to me. It's me "why"! I tell my husband and kids how grateful I am for them and how I love them every day. We work hard. We play hard.
Do you have any tips for business owners who want to incorporate "giving" into the way they do business?
Implement our "Social Responsibility System". This has successfully worked for over a decade. Stay consistent.
What are some of the different ways to build up emotional currency through acts of service?
It's the love exchanged between two people through the act of giving. Both the giver and the receiver feel a strong sense of satisfaction. It changes the way both people "see the world" and when that happens, you can "change the world".
What challenges have you had to overcome in your journey to success?
I had to learn some painful lessons while battling a learning disability, which taught me to think outside of the box. This enabled me to be innovative and to accomplish many things. I learned that "everything happens for us, not to us".
What advice would you give to someone who wishes to become a "givefluencer"?
Go "all-in". Become a "givefluencer", and watch the universe open up to your wishes because the "law of attraction" is triggered through the act of being a "givefluencer". By embracing your "giving spirit", you start pulling things toward you, which enables you to achieve your goal of giving.
How can readers connect with you?
Foundation Projectpopdrop.org
Instagram (@projectpopdrop or @nikishadrowsnyder).