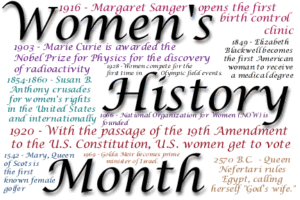 March is Women's History Month.
Women in business are making history, building empires, and creating legacies!
In honor of Women's History Month, Courageous Woman Magazine will highlight 25 Extraordinary Women in Business in the March 2018 special edition that will be available in print and online.
From those 25 women, one woman in business will be selected by online vote as our Courageous Woman of the Month and will receive an award and cover-story feature in our April 2018 issue and featured on our website.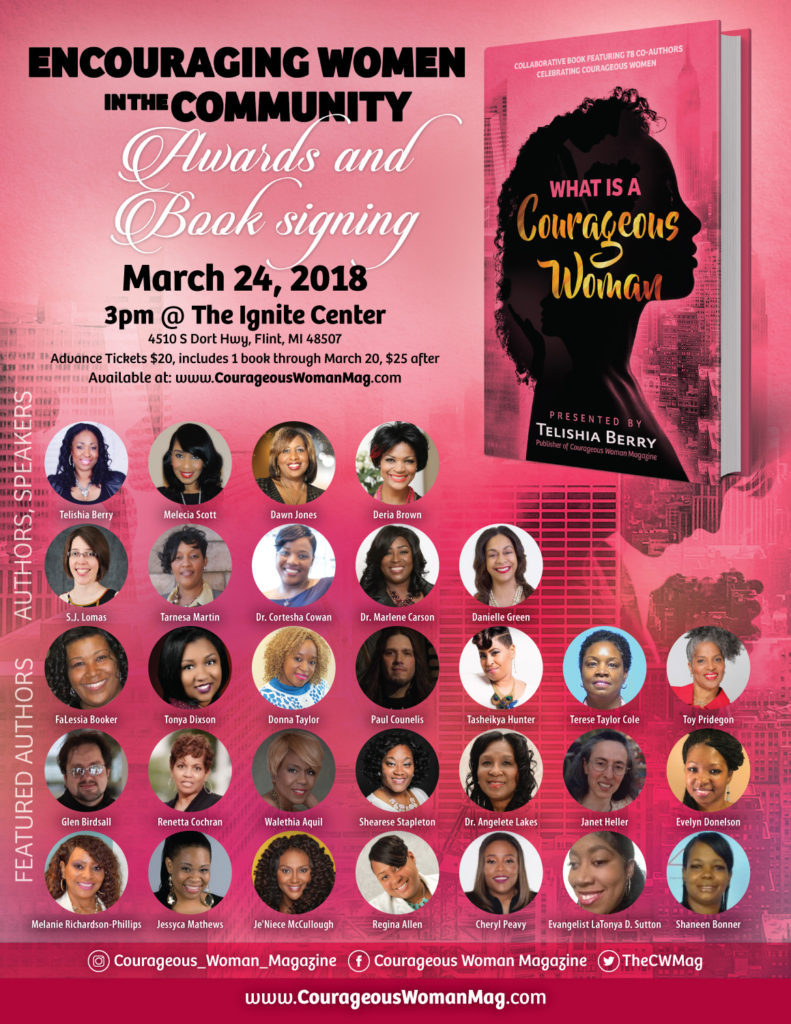 By being part of this special edition, you will be supporting our Encouraging Women in the Community Event and Book Signing. We will be presenting 5 amazing women and 4 agencies with awards for their dedication and service that help women in the Flint community. We are giving away 40 gift-bags to women who reside in battered-women's shelters in Flint.
The event will also be the launch of the book, What is a Courageous Woman, a collaborative book that features the writing of 78 co-authors from around the country. It is presented by Flint native, Telishia Berry, Publisher of Courageous Woman Magazine, an inspirational publication that highlights extraordinary women. Like the magazine, the goal for this book is to uplift, encourage and inspire women. Many of the co-authors from Flint and other states will be at the event to speak and sign books.
The fun-filled evening will include entertainment, refreshments, and inspirational speakers, including, Dawn Jones, TV-12 News Anchor, Deria Brown, owner of Glam Box Boutique, Danielle Green, Author and Board of Education member, Tarnesa Martin, Founder of WORP, and Telishia Berry, CW Magazine Publisher.
This is your chance to gain some additional exposure for your business
Who will see your business? Special edition print circulation 5,000 . Some complimentary issues will be distributed throughout the city of Flint, Michigan and in some locations in Los Angeles, CA, increasing your exposure. Our 10,000 email subscribers combined with our social media and digital copy audience expands to over 150,000.
Submit now
Deadline is Tuesday, February 27, 2018
7 pm
Limited space
If you are looking for ways to expand your brand, this is an opportunity to shine the light on you and your business. This feature will automatically nominate you for Courageous Woman of the Month award and cover-story feature for the the April 2018 issue!
Secure your nomination now!
What we need from you:
High quality head-shot photo
Fill out the form below
Subscribe to CW FREE online
Follow us on Instagram
Follow us on Facebook
Follow us on Twitter
Email us: Thecwmagazine@yahoo.com
Deadline is Monday Feb 26!
This is a limited time, limited space opportunity.
Now is a great time to promote your business and show your support
Promotional fee is reduced to $35.00 and includes one FREE print copy. Fees are necessary to help us with some of our cost, including printing, design, editing and distribution.
Want to grab additional copies now?
$6.99 + $3 shipping and handling (Special edition price)
Fill out the form below

Buy Tickets to the event
Buy tickets NOW.
$20 include 1 Book
Want to advertise in the magazine we have just a few spaces left
GOLD SPONSORS
Inside front-page cover
2 Event tickets
2 Books (What is A Courageous Woman)
Speak at the event
Logo listed on the front cover of the magazine
Name listed on our "Thank you" page in the magazine
Name listed under "Thank you" on our website
Name mentioned at the event
Business display table
20 copies of the magazine
$375.00
Full Page
$299
½-page
$199
¼-page
$150
Business card size
$50
Once you make a payment, please email us your camera-ready ad. Thecwmagazine@yahoo.com
Donations – If you would like to donate to this event, we do appreciate your support.