I really didn't want to come off my tasks this weekend to go anywhere, but the tug in my spirit sprangs me up to make it to my fellow Flintstonian, Shaneen Bonner's CD Release Party. The singing was amazing and the atmosphere was conducive to break every stronghold. The prophetic word spoken to me was so powerful and on point that I woke up at 4 a.m. numb. Yes, I am pregnant. Pregnant with a God child. It's time to birth it. But fear had me bound even when I pushed. I tell you, fear is dreadful. It can step right in the middle of your destiny and delay it. Oh, but when there is a purpose, you have to keep getting up when you fall. Fear is so evil. It can grip you in your throat, pin you up, but if you move into the light, and look in the mirror, the hands gripping your throat are your own! Smh.
The opportunity God has given me is so big that it scarred me. It's everything thing I have dreamed and prayed for, but Instead of walking through the door to my blessings, I poked my head out the door and asked, "Is this for real?" Then ran the other way saying, "Noo, I'm not ready." But I am the courageous woman? Did I think that fear was not going to come for me and try to hang me, (sounds harsh but the truth)? Nope, I'm on the front line of the firery fear darts. But today, I removed MY hands from my throat and I'm ready to get to getting. I am ready to put my hands to every task God has given me, to bring forth every vision I have written…literally. And I want to encourage you to do the same and to part ways with your fears, to write your visions and execute in full force and walk in stride right into your purpose. It's YOUR TIME. Now GO GET YOUR BLESSINGS
About Telishia Berry
Telishia Berry is a speaker, playwright, author, radio host and the publisher of The Courageous Woman Magazine, an inspirational publication that highlights the accomplishments of extraordinary women.  Telishia is also the host of The Courageous Woman Radio Show, that has reached over 1 million listeners. It airs on ICBS Radio, 111.3 FM is Los Angeles, and is accessible simultaneously online.
Telishia Berry's first book The Baptist Junkie is a bestselling Christian fiction drama about faith, family and redemption. She is preparing to launch her second book, Girl, Get Yourself Together, a non-fiction book that encourages women to focus on being their very best, mentally, physically, and spiritually.
As a playwright, Telishia has numerous stage productions to her credit including gospel musical play "Wake Up, "Wake Up 2" and "Hair Weave."
Telishia is a mother to 4, including 2 daughters who are graduates of The Los Angeles Film School and a son Kendre' Berry who is an actor and singer, most known for his roles as Jabari on the hit TV show Girlfriends, Durrell on HBO's Six Feet Under and  Hand of God.
Books By Telishia Berry
Brenda Wilson, the youngest of four children, was raised in the church and pressured with high expectations by her father, Deacon John Wilson. Brenda walked the path of the straight and narrow
that her father tried to keep them on until her rebellious ways got the best of her. It's 1968 and Brenda is now sixteen and pregnant, and unmarried, an issue that was frowned upon at this time in society. When she's shunned by the church and rejected by the father of her unborn child, her life spirals down a dark path and she turns to drugs in hopes to remedy her pain. From the church house to the dope house, Brenda's quest for acceptance and self-worth leads her to a spiritual standstill. Will she redeem herself and her faith in God?
GET YOUR COPY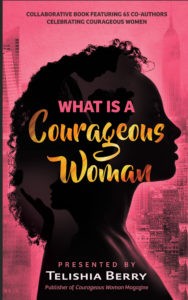 What is a Courageous Woman
What is a Courageous Woman? She can be described in so many ways. Telishia Berry presents an inspiring collaboration featuring 78 co-authors who share their definition of a courageous woman. Our goal is to uplift, encourage, and motivate readers. The book can be used for special reading in women's groups, conferences, etc.
Get Your Copy