Jamie Elmore's self-discovery and Alopecia diagnosis helped her realize her love for serving others.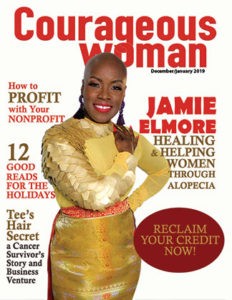 By Ladel Lewis
Jamie was always passionate about doing hair. As a young girl, she loved to play with her dolls' hair. This familiar childhood pastime would later afford her the professional privilege of working styling her friends and family. Jamie's dream of opening her own beauty salon would come to fruition after much practice and creative effort. At the age of 21, she earned her cosmetology license and went on to open the J Salon.
"I felt like my femininity had been snatched from me"
Woefully, in 1993 Jamie's path of fortune would soon hit a snag towards adversity after the birth of her daughter. Jamie gave birth to her bundle of joy at only 25 weeks of pregnancy. The baby only weighed 1lb 8 ounces. She was told by the doctors that her baby had growths on her brain and later diagnosed her with Hydrocephalus. Jamie held her daughter's hand through ten major brain operations within her first year of life. Eventually, this led to the doctors placing a ventriculoperitoneal (VP) shunt in her brain to keep the fluid draining properly. The stress brought on by her daughter's health issues began to take a toll on Jamie's body. She remembers going to sleep one night and waking up to a dime-sized bald patch of hair missing at the nape of her neck.
"While enduring this continuous level of stress, I would feel tingling in my scalp! …My body was talking to me, but I was not listening."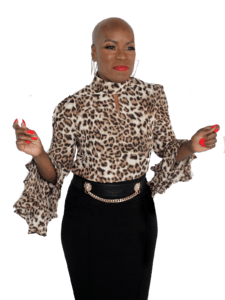 "From 1999-2004, my stress intensified from the medical challenges with my daughter and I was noticing endless amounts of hair that was falling out of my head. My hair looked like a thief snuck into my room at night and erased the hair right off my scalp. My eyebrows fell out within 24 hours and to my surprise, I didn't realize my nose hairs fell out until after I found myself wiping a never-ending drip of mucous away from my nose." Jamie was afraid and ashamed of this new person she no longer recognized. It was at this point, that she began living the life of a "masquerade" by accessorizing and applying makeup; simply because it was easy for her to cover up. Jamie's clients, family, and friends were unaware of her daily struggle. She finally went to the doctor in 2004 where she was diagnosed with Alopecia Areata (an autoimmune disease that causes hair loss on the scalp, face and on other areas of the body). It does not discriminate. It affects all ages, ethnicities, and 2% of the overall population. "At that point, I took it like a life sentence."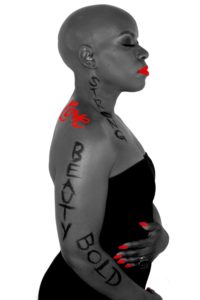 "Facing Alopecia made me face my TRUTH"
After the alopecia diagnosis, Elmore went into a deep depression. She could not recognize herself when she looked in the mirror. Hair growth treatments had proven to be unsuccessful. After a life-changing meeting with an eleven-year-old little girl suffering from the same disease, she decided to listen to the voice of God and start a support group. "As my journey continued, God revealed to me that my hair was like a Band-Aid that made me hide and not face my truth in the mirror. I needed to turn to HIM to get healed." She was no longer able to hide her hair, pain, fear, insecurities, rape, molestation, and low self-esteem. She was forced to look in the mirror of her life and do the inner work to get FREEDOM from her past.
"I'm on a mission to save one person's life and tell my story"
In 2009, Elmore established the Alopecia Support Group (ASG), a global support group for those who are battling hair loss. "ASG strives to empower, support, and encourage. To be the "voice" for those suffering in silence, so they understand they are not alone, and their life is not over." The group also helps survivors "live out loud" through their trauma and provides a platform for healing. ASG provides year-round advocacy, with offerings such as accessory workshops, makeup applications, one-on-one consulting for groups and/or individuals, and annual hair loss retreats. On the horizon, they will have Café Conversations and collaborative events with medical facilities to conduct workshops.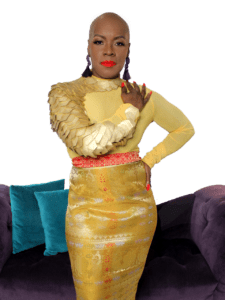 My definition of a Courageous Woman is…. A woman that knows her truth stands in it and walks in her purpose while at the same time encouraging others to do the same.
Want to learn more about Jamie Elmore, the writer, speaker and an Empowerment Coach and her Alopecia Support Group? Log into www.alopeciasupportgroup.org or check out the Alopecia Support Group Facebook page.
Creative Direction and Wardrobe Styling provided by Margo Jones for A Personal Point of View
FB: A Personal Point of View
IG: @appov_CreateCollab
Make up: Natalie Johnson
@styledbyNatalieJ
Photographer- Mujale Chisebuka
www.Mujaleaxp.com
IG:@mujaleaxp
Order a copy $10 + $3 shipping