An Invitation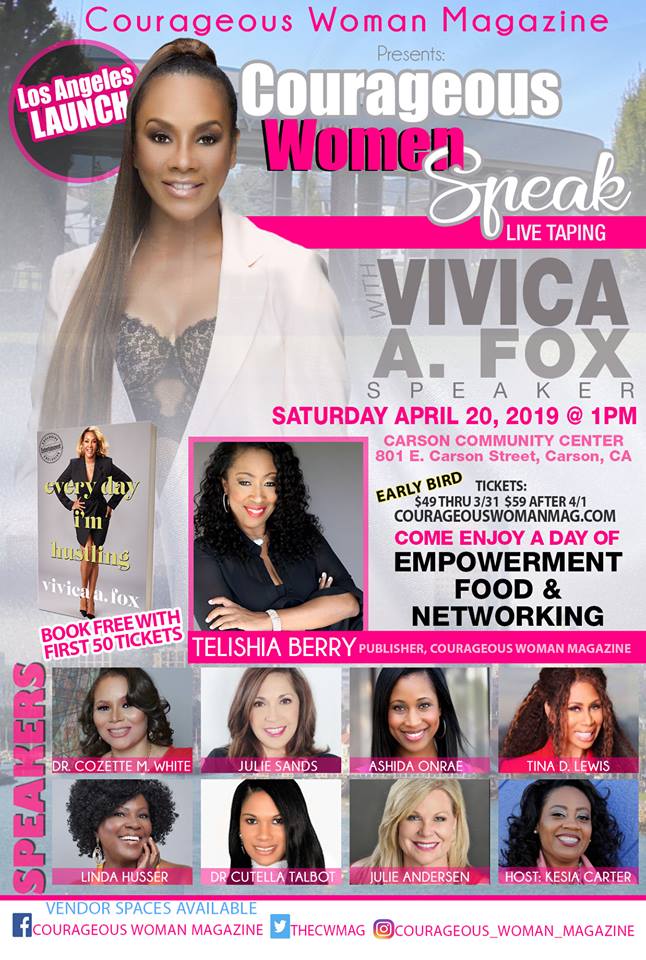 You're invited to be in the house at Courageous Women Speak – LIVE WITH VIVICA A. FOX and the launch of Courageous Woman Magazine- Los Angeles!
If you like the speaker's series, Ted Talks You will love Courageous Women Speak!
Since 2011, Courageous Woman Magazine has been inspiring women around the world. The magazine will launch a Los Angeles edition along with the live taping of the speaker's series, Courageous Women Speak. The award-winning actress, Vivica A. Fox will be the celebrity speaker plus 7 amazing speakers including, Dr. Cozette M. White, Dr. Cutella Talbot, Julie Sands, Ashida Onrae, Julie Andersen, Tina D. Lewis and Linda S. Husser, Saturday, April 20, 2019, at the Carson Community Center in Carson, CA @1pm
If part of your organization's mission is to uplift, encourage and empower women, you should be at Courageous Women Speak among other women leaders, entrepreneurs, and executives who share that vision.
If you're a speaker or desire to be, come and learn more about how you can be part of this ongoing speaker's series!
Come and hang out with us for a day of fun, food and, empowerment!
If your business, or organization purchases a table (Seats 10) by April 10th we will acknowledge your organization at the event and highlight your organization in Courageous Woman Magazine's May issue that will feature Vivica A. Fox on the cover. It will be distributed at the event April 20th and online, as well as complimentary copies distributed throughout Los Angeles.
Tickets are $49 Tables $490
Can't go but would like to donate a ticket to a girls organization. There is a group of your entreprenuers wishing to attend but in need of 10 more tickets. If interested in donating tickets please email us or purchase tickets and email us and let us know it is a donations. Thecwmagazine@yahoo.com
Fill out the form below after you purchase your ticket.