Chef Angela-Michelle is an international culinary expert who enjoys inspiring the world to shop, cook, eat, and live healthily. She's a plant-based flexitarian who loves to travel abroad. No matter the destination, she thrives on submerging herself into the culture. Besides traveling and cooking, Chef Angela-Michelle enthusiastically enjoys horseback riding, snorkeling, driving sports cars, and creating her flavorful spice mixes.
Tell us about your business/products/services 
Culinary Kisses was born almost nine years ago after a successful career in the entertainment industry and an extensive corporate American career.
I've been tall for as long as I can remember. I started my modeling career when I was 12 years old. It was my first passion destination. I mainly did runway, but also did print and promotional gigs. After 25 years of fun in fashion, I traded in my high heels for a chef's coat.
The primary services I offered at the start of my business back in 2012, I still provide today. They include virtual and hands-on cooking classes, weight loss meal planning, and live cooking and nutrition demonstrations (to name a few). We're living in a time were virtual classes have been popularized from necessity, but truth be told … I was one of the 1st chefs to offer and teach virtual cooking classes. This was even before Zoom existed. Fast forward to 2020, the idea of cooking along with a chef over the internet is a popular activity. Not to mention it's a lot of fun!
What or who influenced your interest in cooking? 
My cooking influence came from my family. My mom was a professional cook, and my dad was a popular chef. That's how my parents met. They worked in the same restaurant. Hence why I refer to myself as a "grand culinary creation"… lol. My maternal grandmother and all of my mom's siblings are excellent cooks. My grandmother was the inspiration for my first published cookbook titled "From the Catwalk to the Kitchen." She taught her children how to cook, and as a result, they can all throw down in the kitchen. Pushing out a full course meal complete with dessert is an easy task for my aunts and uncles. Couple all of that with the home cooks and professional chefs I've encountered all over the world, I soon realized culinary arts was my next passion destination.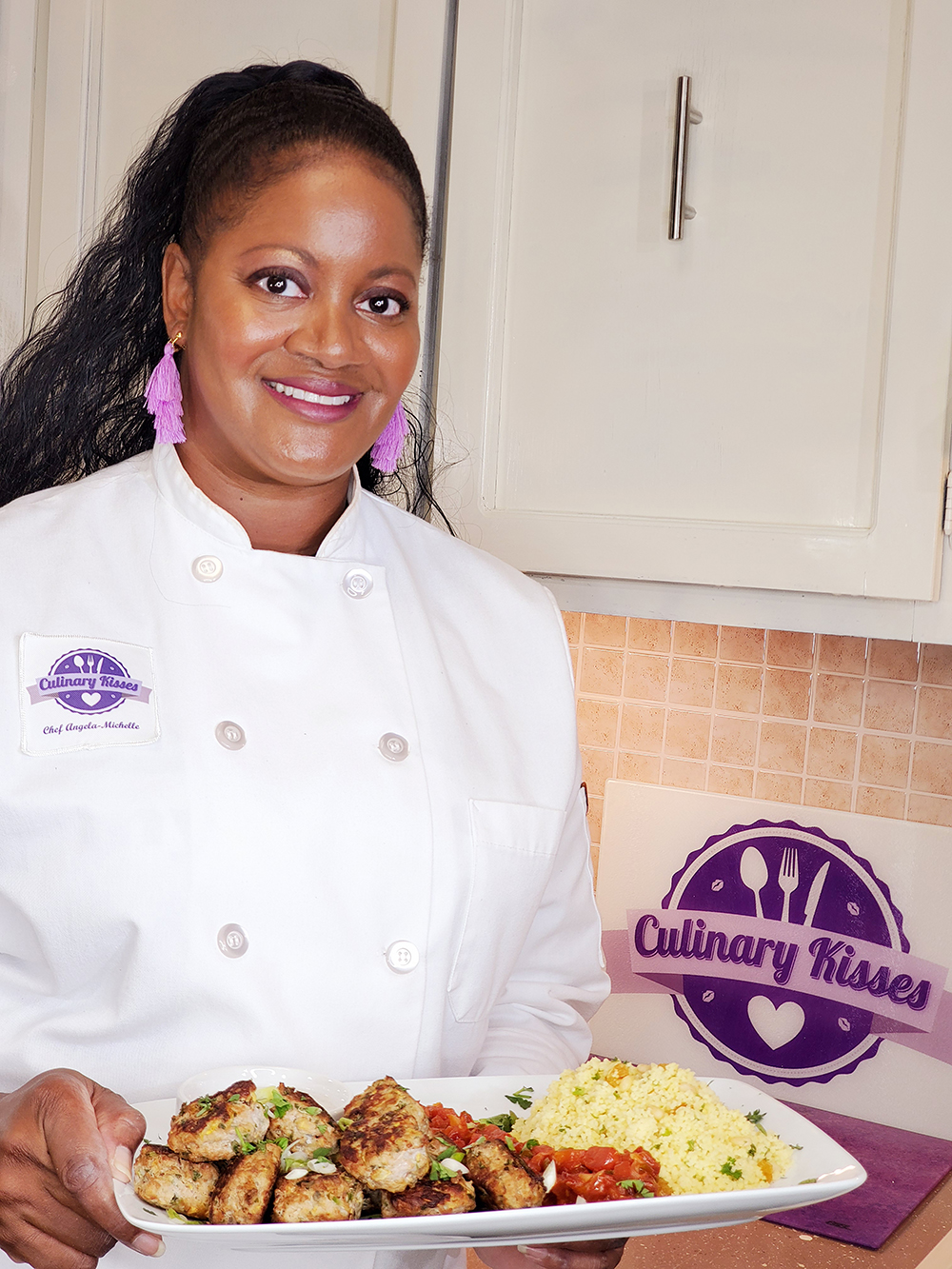 "No matter what you cook, 'make it cute.' We eat with our eyes first. Does it look good? If it looks good, then it must taste good, right? So, make it look cute. You'll hear this quote a lot on my YouTube cooking channel."
What types of foods do you specialize in cooking and why? 
Ahh, that's a hard one … only because I love to cook authentic cuisines. I believe food is art, food is culture, and food is love. That's why I named my company Culinary Kisses.
I would, however, say that I have two unique culinary gifts. I can turn any dish into a healthier version while maintaining the integrity of the original flavor. And I'm a wiz at spices and seasonings. Building flavor profiles is my superpower. I'm even thinking about developing a line of spices and herbs, so make sure you stay tuned for that.
What special training have you had that has enhanced your cooking skills, style, and business? 
I have a Bachelor's degree in Business Management. I'm a firm believer in knowing how to handle your money and how to run a business properly. It's like what Oprah said, "sign your own checks."
As far as my cooking skills and style, that's a mixture of my culinary influence from my family, my encounters with people, food, and culture worldwide, and it's been my reading and research. My trials and errors in the kitchen. My sense of adventure in trying new things. My willingness to think outside the box. It all comes down to being limitless.
How have you been able to turn your love for cooking into a profitable business?
To sum it all up, I follow my heart. I have a mind for business, I appreciate the soul of food, and I have a spirit of servitude. I truly believe when you listen to what's in your heart when you follow the passion God gave you, you will receive what the universe has for you. You'll have no choice but to succeed in business, as well as life overall. It's a destiny.
Do you offer any cooking courses or training? 
Currently, with the state coronavirus has society in, I'm only offering a virtual cooking class with numerous available options—everything from hearty Italian to authentic Asian to vegan African; and so much more.
Next month I'm launching an online cooking course. It teaches anyone how to become a better cook. I'll cover knife skills, spices, and seasonings, as well as how to cook various vegetables and meats. I also include helpful worksheets and delicious recipes. The best thing about it is, you can take the course at your own pace. I've come across many people who want to learn how to be a better cook, but have no interest in attending culinary school. That's why I decided to offer an online cooking course. It meets the need of the people.
What advice would you give to someone who wishes to turn their love for cooking into a profitable business?
My advice would be:
Know the ins and outs of essential business, money, contacts, financial statements, etc.

Find your specific passion, your niche, and stick to it. Figure out how to do it better or different than anyone else.

Don't sell yourself short. You're not just (just a cook, just a baker, etc.). You're "the" cook, "the" baker. You're the best in the game. Believe you are, then sell yourself as the master.

Always learn more about your craft, your niche. Always research. Stay on top of the latest news/developments. The goal is to be ahead of the game at all times.

Market and advertise as much as possible. Utilize social media to the maximum.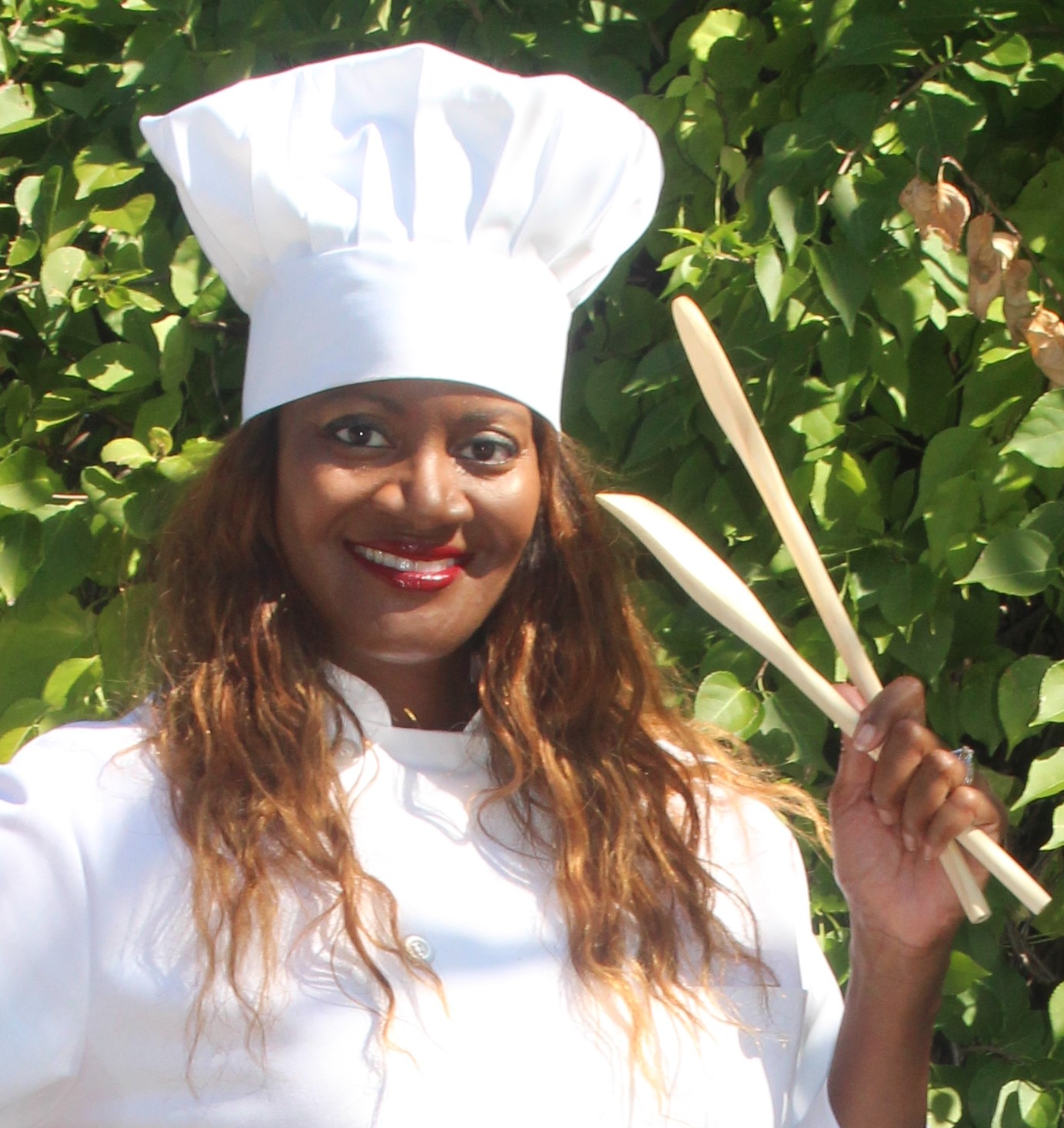 How can readers connect with you? 
Website: www.CulinaryKisses.com
Amazon: www.amazon.com/author/chefangelamichelle
Online Course: https://culinarykissescookingschool.teachable.com