Dr. Mildred Dumas is a Naturopathy Doctor. At eighty-seven years old, she says her health is superb! "We practice prevention in the naturopathic field. I attribute that to the fact that herbs are my choice of medicine." Dr. Dumas is also a playwright, novelist, and actress of stage, screen, and television. Her writing career spans decades. She wrote her first stage play at the age of fourteen. After writing close to 100 plays, Dr. Dumas decided to try her hand at writing novels. Black Eden, is her most recent fiction novel.
What is the motivation behind your writing journey?
I have always loved words, putting them on paper, in the mouths of others, and watching them come to life on the stage. I wrote my first play at the age of fourteen and presented it on my parent's front porch. When one of the attendees showered me with praises at the end of the production, I knew I had found my niche.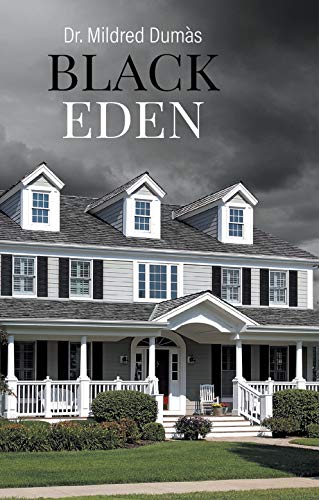 "This book might cause a riot within the churches."
Tell us about your new book, Black Eden. 
Black Eden, is about the good and bad within a church. It also delves into the practice of tithing. I love some of the comments I'm getting from readers: "That church-folk went through some stuff." "This is a bold, daring, and entertaining read." "This book might cause a riot within the churches. Wow!" "I can see it as a movie." "Black Eden is an engaging novel from the beginning to the shocking, dramatic climax." These comments suggest that I might have a winner.
What prompted the story-line for Black Eden?
All of the greed and hypocrisy that is going on in some churches today. Preachers telling their congregations not to "rob God" while they (the preachers) are robbing their congregations big time. Putting member's contributions into their own pockets; buying multiple mansions; driving expensive cars; even buying jets that they swear they need to fly all over the world to "preach the gospel." And they're using God as their weapon to finance those life-styles.
What do you hope readers will take from this book?
Black Eden is a novel—fiction—so I hope my readers will be entertained while reading this book and that they might even learn a few things. I got the information that I put in this book about tithing from listening to ministers on television. But I must say, one's own conscience should be one's guide about this subject matter.
Where is Black Eden available?
Black Eden is available on Amazon, on my website: mildreddumasliteraryworks.com,
and at Barnes and Noble For an autographed copy, call me at 661-265-9344, or e-mail
me: drdumas12@yahoo.com.
You are also a playwright. Tell us about your most recent production.
My most recent production was a Black History show, A Gathering of Pioneers, that was presented at the New Freedom Christian Assembly, in Palmdale, CA on February 22 & 23. People are still talking about how much they enjoyed learning about, not just Black History, but American History.
What other books are you working on?
I am working on a book and a play. My play, When the Past Comes Back . . . (drama about sorority hazing) is scheduled for production at the MAIN Theater, in New Hall, CA in May. My novel, Bitter Inheritance (a mystery thriller), has been adapted into a screenplay. I am awaiting funds to shot the movie.  Copies of the novel can be found on my website: mildreddumasliteraryworks.com.
What can readers expect from you next?
I am writing my next novel or screenplay, A Son's confession; A Father's Nightmare. I'm not sure which will turn out to be at this point.
  How can readers learn more about you?
Readers can google my name. All kinds of things will pop up: my books, plays, even a sizzle reel of my upcoming movie, Bitter Inheritance. They can also go to my website: mildreddumasliteraryworks.com. They might even discover that I wrote a book on natural healing, God's Diet for His People.