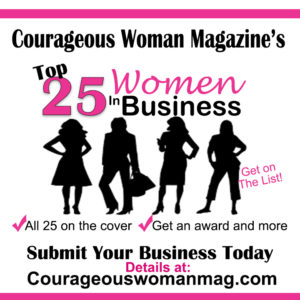 Are you a women in business?
being on the list as one of the Top 25 Women in Business could bring awareness to your brand, products, and services. We are winding down and still have a few slots open for some amazing women in business. Join our information call tonight to learn more about the benefits  of being part of this project.
We are excited and looking forward to highlighting the Top 25 women in business on the cover of our special edition.
Businesswomen are making major moves!
JOIN THE CALL TONIGHT
INFORMATION MEETING Tonight at 8:30 PM EST, 6:30 CST, and 5:30 PST  Call in to 641-715-0632 Access Code:186693#
You've read about others who made the lists of accomplished people in magazines such as Forbes, Ebony, and others. Now, Courageous Woman Magazine has their list of the Top Women in Business. We are going all out to make this a huge success and great opportunity for women in business. Because our focus is publicity and marketing, our goal is to help women expand their brands, increase exposure for their business, products or services, and gain new business prospects.
Many women have already submitted their business, and we are excited about the many types of businesses these women have. From interior decorators to publishers to an owner of a real estate training school, we look forward to sharing their work with the world. Stay tuned. This is going to be one fabulous issue!
If you're a woman in business, you should be on this list!
Do you want more people to know about your business? Would you like to be listed as one of the Top 25 Women in Business when someone searches your name via the Google search engine?
If you're selected as one of the Top 25 Women in Business, you will:
Be one of 25 women featured on the cover – Yes, 25 photos will be on the cover of Courageous Woman Magazine!
Be featured on the list, in the magazine and online in a magazine that is nationally known and read by people all over the world (Includes your photo and business details).
Get an award – Each of the 25 women will get an award of honor for being on the list of Top 25 Women in Business
An article in the magazine that will also be shared on our website
A promotional card to share online that includes your photo. "I made The List" Top 25 Women in Business.
Lots of social media marketing for you – We love to share stories about successful women in business via our social media platforms. We will promote the businesses of All 25 women via social media.
Be included in our special YouTube video
You'll also get a free copy of the print issue
Our team of marketing professionals is ready to make you shine!
o    What happens after you submit:
o    Your submission goes through a selection process
o    If selected, you will be notified by email if you made the list
o    Receive your Promo flyer By August 5
o    The magazine issue will be released September 3rd
o    This is a fee-based promotion. The cost to participate is just $47 until July 26 EXTENDED til July 28th only. After the 28th the fee is $57
o    Got questions? Email Us
SUBMIT YOUR BUSINESS NOW, VIA THE FORM BELOW
Be sure to join our mailing list for more details about this and other exciting things we do at Courageous Woman!