He Who Cheats at Love Wins Nothing
Memphis, Tennessee March 26, 2020 Author, Clarence Birdsong III launches his new book, Quit Trippin, a fictional tale, based on his truths. In this book, he talks about dating and relationships and why he felt obligated to stop his cheating behavior.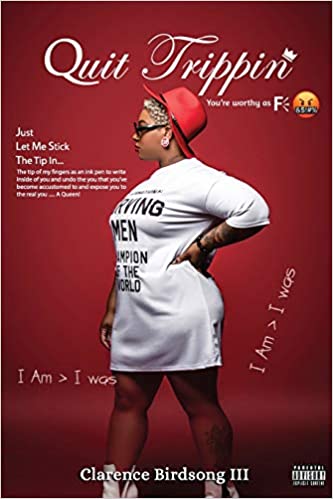 How often do men reveal their straight-forward, unadulterated truth? After a conversation with his girlfriend, Clarence realized that how he related to women could have a direct impact on how his daughter related to men. He was motivated to write Quit Trippin once he concluded that being an example of a good and faithful man who treats women with respect would be among his daughter's her first lessons in love, but even more so, he wanted to make sure she knew her self-worth and understood that her first true love should be herself.
Clarence Birdsong III grew up in the inner-city of Memphis, Tennessee. He was adopted at an early age and became a troubled teen. He decided to focus on writing rather than athletics as other kids in his neighborhood did. After two near-fatal accidents that left him injured, car-less, jobless, and homeless, he became more enthused about writing because he believed it was his path to a more rewarding lifestyle. Even while living in his truck, bug-infested motels, and his rented storage unit, he pressed through, spending his days and his night's writing, determined not to allow his circumstances to become his outcome. Quit Trippin is his 3rd book. His previous release, Black: A Love Story, received raved reviews and gave him notable recognition as a relationship mentor. His first book, Chocolate Kisses is a bestselling children's book that encourages African American girls to love themselves and their skin color.
​
Quit Trippinopens with an apology to every woman who has ever been hurt loving someone. You'll be amused with the author's tantalizing eroticism and straight, no-chaser honesty. After reading Quit Trippin you should have a clear understanding of the saying, "To thine own self be true."
Grab your copy of Quit Trippin at Amazon.com on March 30, 2020!!
Connect with Clarence Birdsong III
Facebook: Clarence Birdsong III
Instagram: IammillionaireBirdsong