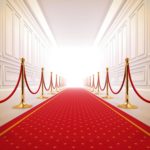 ROCKIN' THE RED CARPET
By Telishia Berry
Some dream about it, some have tried it, but these three Red Carpet Divas are doing it and doing it well. From interviewing prominent business people to Hollywood celebrities, these ladies will tell you, it's not easy keeping up with latest technology, celebrity news, or rocking the latest fashions on the red carpet. Despite the tough roads these ladies have traveled to get where they are, they are proof that if you dream it and believe it, YOU CAN DO WHATEVER YOU WANT TO DO!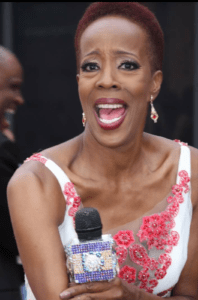 Cosandra Calloway has worked in the entertainment industry many years, beginning in New York at the Latin Quarters, the first Hip Hop club where Will Smith performed his first shows. Although she's had some wonderful experiences and accomplishments, including working at Arista Records, Screen Actors Guild and working with R & B artist, Toni Braxton, she knew it was more she wanted to do. She balanced working in the industry with a full-time job until 2009 when she decided to leave her job and make her mark in the world of media. From her Millions of listeners on internet radio to Facebook Live, Cosandra continues to keep pushing.
What do you love most about working in media?
"I love the research, the preparation, the pre-game. Getting into who the person is helps make a better interview," she said. Cosandra said she also likes to make sure her tools are on point from making sure the camera is charged to cleaning the lenses so that she can give her very best.
What would you say to a woman who is fearful about launching her dream?
"You gotta step out on faith. At 54 years old, I am truly stepping into what I want to do." Whether it's painting or using her DJ skills, she said she is ready to go for it.  Once she decided she was gonna go full speed into the making of Cosandra Calloway, she was going to do it big, even if she's afraid. "Am I scared? Yes. I wake up every morning sick to my stomach, thinking, how am I gonna do everything I said I'm gonna do. I get on my knees and thank God for letting me breathe and I pray for strength."
Words of wisdom for others
"Don't let nobody stop you and stay away from toxic people"
What would you say to a woman who is fearful about launching her dream?
"You gotta step out on Faith."  At age 54, I am truly stepping into what I want to do."
What's next for Cosandra Calloway?
"From the red carpet to the runway," she said. Cosandra says she is ready to go full-force into another venture and dream. "I really want to model. When I was younger people would say, you should model," but I wasn't confident then. I had some fear in my heart, so I didn't do it.  I had to overcome those fears. Therapy helped me to get out of those fears. Today, if I have fears I get over it on the red carpet..in a cute way!
Connect with Cosandra Calloway- Instagram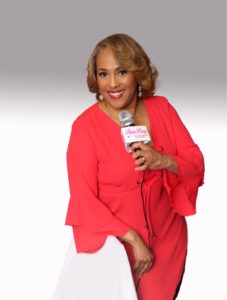 Pam Perry is an award-winning communications professional. She teaches and mentors authors, speakers, and entrepreneurs on how to build a platform and attract major media and publishing contracts. She is also the publisher of SPEAKERS MAGAZINE.
After working with Pam, her clients have been featured on CNN, TBN, The Word Network, Radio One, Oprah Magazine, Tom Joyner Morning Show, Essence, Ebony, Black Enterprise, PBS – and many other major media outlets. Her clients have been offered major publishing contracts and have created successful full-time careers as "authorpreneurs" earning six-figures.
She has been called by Publishers Weekly a "PR Guru" and featured in many major publications.
What do you love most about what you do?
 I get to meet some inspiring people, who are "superstars" and changing the world for the better.
What motivates you to keep going?
  my drive is that God downloads new ideas to me often and I want to please him – so I make it my goal to execute in excellence.
What is your definition of a courageous woman?
A courageous woman knows who she is, what she wants, and who she represents — and never sways. She is a woman on mission and fearless in the face of obstacles because she knows she's a winner with God!
What's next for Pam Perry
I am launching something I've been wanting to do for a longtime.  It's the Branding Accelerator Program. It's part course, part coaching, part training and access to media so clients can get known fast via the media and be positioned as a thought-leader and keynote speaker.
 Connect with Pam Perry –  Instagram
Twitter @pamperry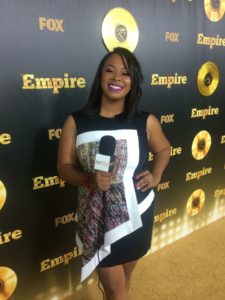 Who is Robin Ayers 
My journey in media came by "accident" when a friend, Executive Producer of "For the Love of Ray J", asked me to do an off-camera interview with Keith Sweat. I had never interviewed anyone at that point but it went really well. I had been bitten by the broadcast journalism bug from that point on. It's been an interesting journey and I've had some help along the way. For instance, the thing that solidified me as an established host was the interview with Grammy Award singer and Actress, Brandy Norwood. She has so many fans who love to keep up with her so when she granted me the interview, it went viral. Things really took off from there. Now, I've been seen on FOX's daytime talk show, The Real, as well as Maria Menounos' network Afterbuzz and red carpets for major films and shows.
What motivates you to keep going?
I'm always motivated by the minds of the people with these great success stories. If you think about Oprah, Tom Cruise, Beyoncé, most people are fascinated by what they've accomplished and their talents, which I am as well. But deeper than that, I want to know what makes them tick. There's something that goes on in their mind to cause them to do the great things they've done. If I can find those things out and relay it to a watching audience to inspire them, I've successfully don't my job. In addition to that, I believe I have a gift of comfortable conversation and we're all responsible for what we do with our gifts. My eleven-year-old twin daughters are watching to see how I use my gifts and I'm the prime example on how they can use their own.
What projects do you have coming up?
Since I've ventured into journalism, my career has evolved a bit more. I'm now an author and motivational speaker. My first book was a big success, partly due to its feature on Oprah Winfrey's OWN Network. That message was about the power of belief that we've all been born with and how to use it intentionally for your life. I'm currently working on another book for rising entrepreneurs that will give business nuggets to help them in their journey. I've also begun the process of pitching my own show and details for that will soon be announced. I will also continue speaking around the country to women and youth, primarily. My next speaking engagement in August 2018, will be held in Washington D.C.
Connect with Robin
Social media link is @RobinAyers on all platforms
The definition of a courageous woman:
A woman who jumps from the top of the mountain, having faith that her wings will grow on the way down.
See below or click here to see the full issue