After Cancer left her bald, Tanieka Vance Randall, a Registered Nurse, bestselling author, international speaker, and cancer survivor decided  to blend hair oils to help regrow her hair.
After sharing the products with family and friend, this wife and mother of 2 teenagers and 6 year-old twins knew she had a product others would appreciate.
Tune in tonight to Courageous Woman Magazine's 12 Days of Christmas LIVE ( Day on FACEBOOK. You can watch it on COURAGEOUS WOMAN MAGAZINE'S FACEBOOK PAGE at 6 pm PST, 9pm EST.
We spoke with Tanieka Vance Randall about her amazing products that have women talking.
CW: Tell us about your product and why you created it?
TR: Tee's Hair Secret is a line of healthy haircare products that were created to help ladies, teens and kiddies grow and maintain healthy curly, kinky or coily hair. In 2011 after being diagnosed with cancer I decided to blend my hair oil to help me regrow my hair. Cancer left me Mr. Clean bald. In 2014 I was attempting to make a shampoo bar for my mom and shared my concoctions on Facebook. My FB friends asked if I was selling the items (I hadn't planned on it) and I said yes! My hair had grown halfway down my back at this time so everyone wanted to know what my secret was. I introduced my hair oil and Tee's Hair Secret was started.
CW: What kept you motivated during the process of creating and launching your product?
TR: Knowing that my purpose is much bigger than me. When I was diagnosed with cancer I knew it was apart of God's bigger plan. I didn't know how but I knew he would use that pain I went through so I could share my story and help others. When I look at my kids I know I can't stop. When I get messages from women all over the world thanking me and loving the products it lets me know I'm doing the right thing. I still have a long way to go.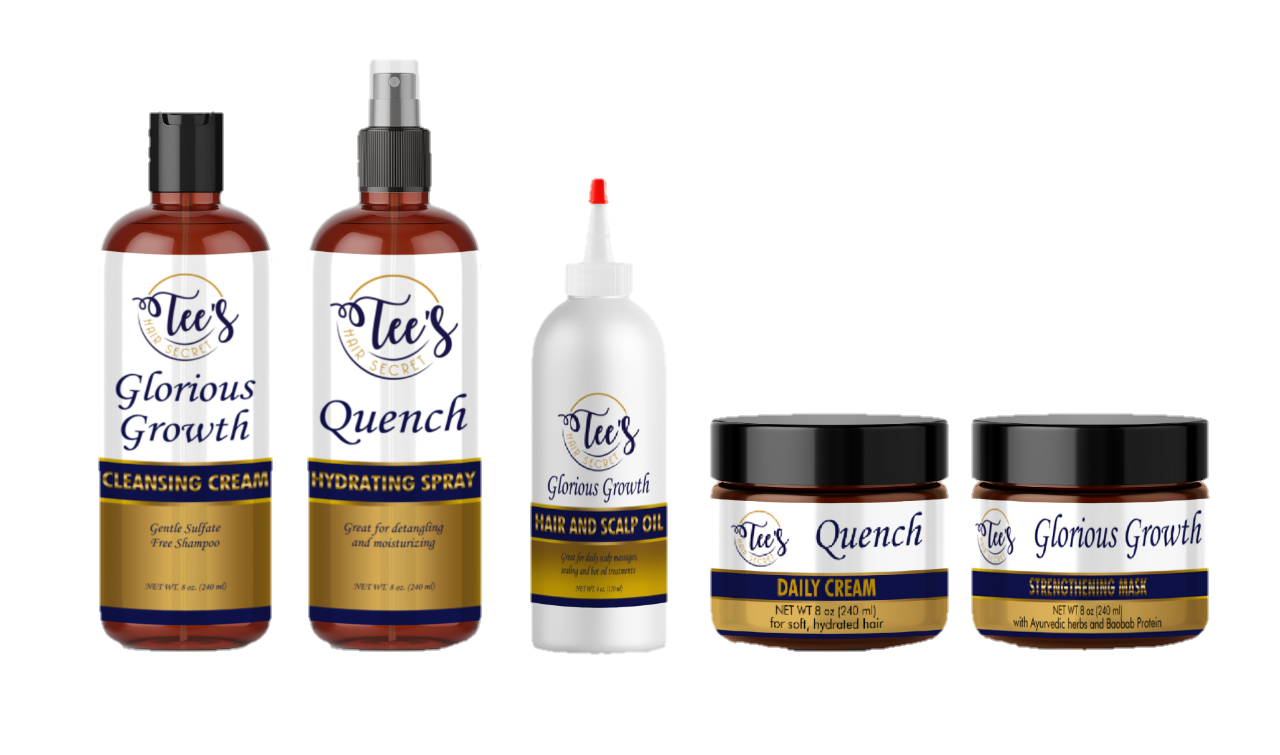 CW: Did you have to overcome any setback or other issues to get your product to fruition?
TR: I have battled depression, cancer, financial setbacks, and failures. In 2016-2017 I was tired all of the time and eventually noticed my hair was shedding like crazy. This led to me ultimately chopping off a lot of my hair and not promoting my business much. I'm back on track now.I'm thankful for all of it because those things had to happen for me to grow and become stronger.
CW: What advice do you have for others who may want to launch a product?
TR: You can do it! Pray, write your plan and goals out. Connect with others that can help you. Don't allow fear to stop you and do your research. Trust me you will get discouraged at times but don't stop, remember your why and keep moving.
CW: What's next for your product?
TR: I'm focused now on gaining more exposure for my brand and connecting more with our customers through learning experiences and collaborations.
CW: Are you looking to create more products?
TR: Yes, currently we are launching our healthy hair gummies which are hair vitamin supplements. We are also launching our kiddie line. Both of these are currently on our website for pre-order. In the future, we will continue to expand on our hair products.
CW: What is your definition of a Courageous Woman?
TR: A courageous woman boldly walks into her destiny. She does not sit on the sideline and allow life to pass her by. She knows what she wants and finds a way to make it happen. She doesn't allow fear to hold her hostage.
How can readers connect with you?
Website: TeesHairSecret.com
Facebook: Facebook.com/getTeesHairSecret
Instagram: Instagram.com/TeesHairSecret
Twitter: @TaniekaRandall