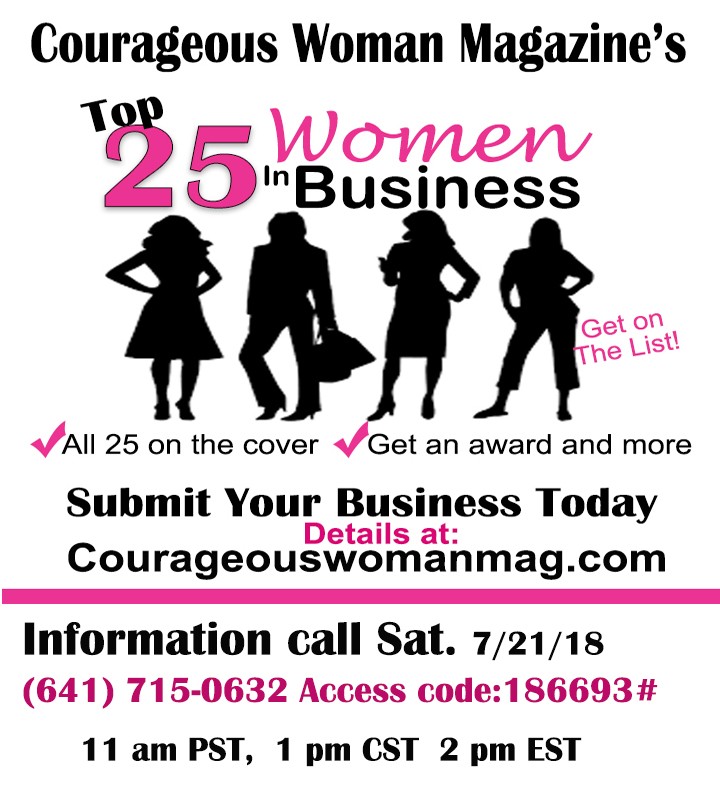 Get on the List of Courageous Woman Magazine's Top 25 Women in Business!
If you're a woman in business, you could be honored as one of Courageous Woman Magazine's Top 25 Women in Business and be featured in a special edition. You will receive an award and your photo will be included on the cover of the magazine!!
The magazine is seen online and in print by readers all over the world. This prestigious list of the Top 20 Women in Business will highlight up to 25 women who have established varies types of businesses from real estate to event planners to fitness experts.
Every woman maneuvering in her own business can tell you her road to success has not been an easy one. You've put in the hard work and brick by brick you've laid the foundation to your business. You've made sacrifices and adjustments to build your business and you deserve to be recognized for all your hard work.  Right now, is your time to shine and we want to put the spotlight on you!
Forbes Magazine has their top lists, now Courageous Woman has their lists of some of the most amazing business women on the planet, and you have an opportunity to be on this list.
Imagine when your potential clients search for you on the internet (and you know they do) and find you listed among the top 25 women business!
Being on This List Will Help You
Gain exposure
Expand your brand
Enhance credibility
Listed in Google search engines as a Top 25 Woman in Business
If you are looking for more exposure, this is your opportunity to show the world your greatness.
Feature Includes:
Frameable recognition award
List includes:
Your name
Your business name
Your professional headshot
Your business location info
Your link to your website
Your business Facebook and IG link
40 words max about your business
Your photo included in our "Congratulations video" for YouTube
Your promotional flyer posted on all our social media platforms
Included in our email newsletter
1  print copy
In Addition, You Get:
The promotional flyer includes your photo, "I Made the List – Top 25 Women in Business"
Your business information article on our website
Info included in email Eblast
This is a fee-based promotion.  The fee for this promotional package is $47 thru July 26 and $57 July 27 – August 2, 2018
How to make the list of Top 25 Women in Business
Submit your info via the form below
Requirements:
Business must be established for at least 1 year
What happens after you submit:
We have a selection process to select the top submissions
If selected, you will be notified by email asap announcing you made the list
Receive your Promo flyer By August 5
The magazine will be released September 3rd
This is a fee-based promotion.
Got questions? Email Us
Be sure to join our mailing list for more details about this and other exciting things we do at Courageous Woman!
MISSED THE CALL. LISTEN HERE
Submit today to be at the top of the list