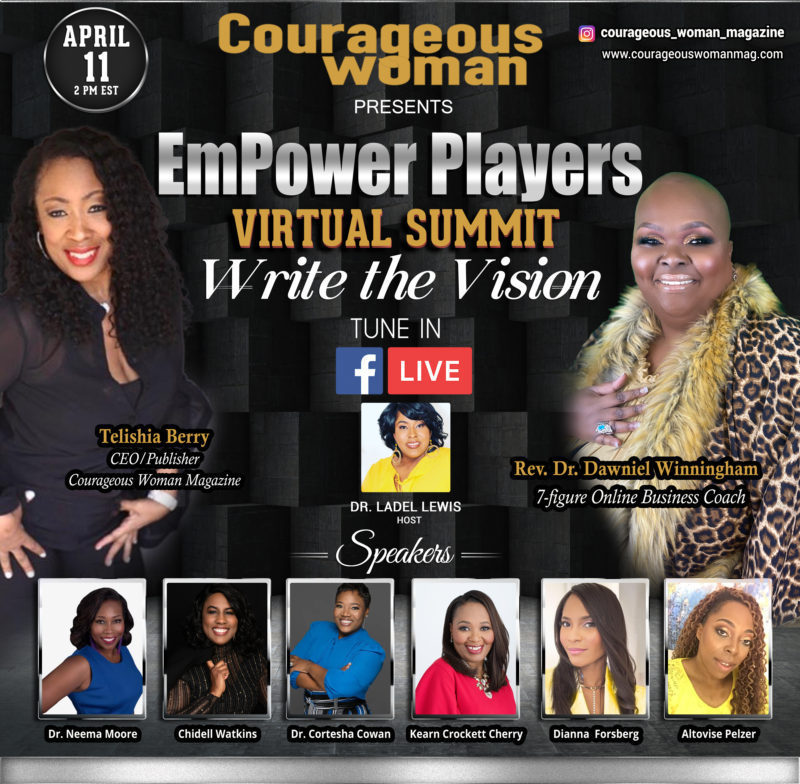 Be sure to tune in Saturday, April 11, 2020
2 pm EST, 1 pm CST, 11 am, PST
LIVE on FACEBOOK – COURAGEOUS WOMAN MAGAZINE
An Empower Player is an authentic, confident, driven woman who is dedicated to using her platform to inspire, educate and empower others?
Introducing Empower Player, Dr. Cortesha Cowan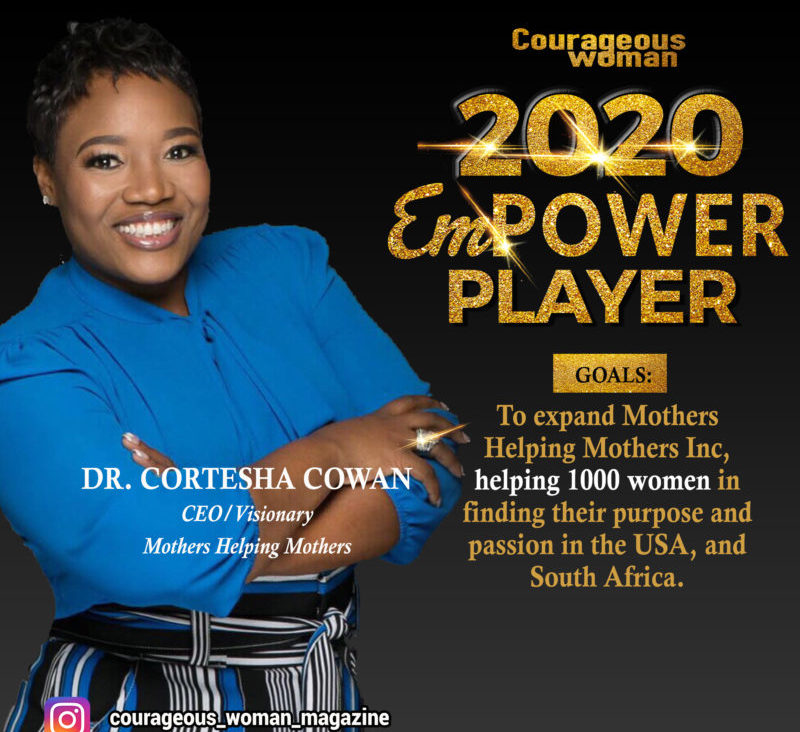 About Dr. Cortesha Cowan
Cortesha Cowan, Founder/CEO of Mothers Helping Mothers Inc., As a female entrepreneur, she has worked hard to build a step-by-step system and amazing model for opening homes for teen and young mothers that are homeless and in need of support services
There's no such thing as broken pieces"
An Empower Player uses her skills and abilities to empower others, how has your work supported others?
I am working to support others, building an empire that will help girls and women understand the calling on their life this will be a one-stop-shop facility where they came to learn skills, maintain skills, and create skills that will bring them into entrepreneurship for themselves, so they can to break the generational cycle of poverty in their family.
Tell us about your business?
Mothers Helping Mothers Inc is a Program dedicated to keeping teen mothers on track by helping with berries in their lives stopping them from Succeeding as mothers to their children our program also helps with creating jobs for individuals by using a step by step program that helps with entrepreneurship skills.
What are your overall goals for 2020?
To expand Mothers Helping Mothers Inc, helping 1000 women in finding their purpose and passion in the USA, and South Africa.
What's next on your Empowering agenda?
Right now I'm working with an amazing group of women as we create the medical empire in the state of Georgia we're not only girls will get a skill but they will be directly working right after that skill the ultimate goal is to give them a skill working under us for the next two years that will help them build their own medical business within five years.
What is your definition of a Courageous Woman?
A Courageous Woman is a risk-taker, someone willing to step out and help others without second-guessing herself.
How can readers connect with you?
IG Facebook and LinkedIn under Dr. Cortesha Cowan
GET FEATURED in our MAY 2020 Special Edition Mama's Makin' Moves
Fill out the form below and one of our staff members will contact you