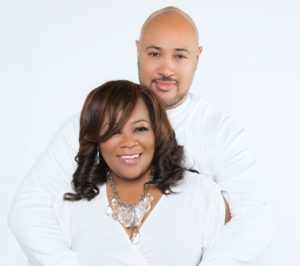 By Eric and Dr. Sakeisha Hylick
One of the greatest tools for having a Marriage that WINS is establishing and maintaining balance in your marriage. This in and of itself is not an easy task. From the outside, it may look as if we have it all together, but the truth is that for long periods of time, we struggled in this area. I mean literally struggled!!!! Being a successful entrepreneur, while excelling in the Healthcare Arena, juggling the kids, homework and after-school commitments, being active in ministry, and trying time to devote to yourself and your spouse can and will take its toll on you physically, emotionally, financially and spiritually. We have been together for 24 years and married for almost 20 years. Together we have managed to raise two teenagers (14 and 15) and have two adult children, ages of 29 and 31, so our life has been very hectic at times, to say the least.
Over these past 24 years, we have had our ups and downs, but we realized one thing. Things, may come and go, friends may be here today and gone tomorrow, but if our marriage was going to WIN, there was one thing that we had to have and that was BALANCE! We've learned first hand that finding the right balance is where most couples struggle. If the proper balance between your family, your career, your ministry, your business is not achieved, every part of your life can suffer the consequences. It is absolutely critical that you devote uninterrupted time to your spouse. Remember, that which you feed will grow and that which you neglect will starve and eventually die.
Our Top 5 Tips For Balancing a Successful Career, Business, Marriage and Family Life
1. Create a Weekly Schedule—One of the things we learned was to write out a weekly schedule so we could see not only how we were spending our time, but what things( after school events, or commitments) could be eliminated or postponed until the next season or school year so we didn't feel so worn out and overwhelmed all of the time. This made a HUGE difference in our marriage. Trust us, the kids will be okay if they don't participate in EVERY Single after-school activity. This creates frustration and causes tempers to elevate
2. Make Family Time a Priority —This means not doing ANYTHING work related during family time. No texts, no emails, no phone calls.Establish boundaries and make sure that they are respected by family members, friends, co-workers, business partners, etc.
3. Dates with Kids—If you have children, schedule a specific block of time to spend time with them on a one on one basis. Be creative. You don't have to break the bank, because this too can cause challenges in your marriage. You can go camping in your backyard, go bike riding, take in a Matinee, or whatever it is they enjoy doing.
4. Schedule Weekly Date With Spouse—This is the number one marriage tip that every couple needs to implement. Our dates may be as simple as sending the kids to grandma's and we have the entire house to ourselves for movie and dancing, or you can go out to dinner at your favorite restaurant, go listen to some jazz. The key is to focus on each other without any distractions.
5. Make Time for Yourself—During the blocks of time you have allocated for yourself, you are not to be interrupted unless it's absolutely necessary. Set realistic goals even if it is 30 minutes-a few hours. Get a manicure/ pedicure, get a massage, for husbands, play a round of golf or basketball. Turn off your cell phone if necessary. You can't pour from an empty cup so take some time weekly to be refreshed and that way you can be more effective for your family.
We want to challenge couples to take steps to implement a balance between the time dedicated to pursuing a career, if you are an entrepreneur building your business, managing your family, maintaining a happy, healthy marriage and effectively pouring into your children's lives.
Eric & Dr. Sakeisha have been working with Married Couples for several years to help their marriages to win. They have been featured guest speakers and have hosted conferences from the Southeast region of the US to the West Coast and in Hawaii. They are passionate about helping others overcome challenges within their marriage so that their Marriages can win. They have been co-facilitators at their local home church in the Marriage Ministry Department and are the Co-Founders of Covenant Kingdom Builders Online Ministry. They currently reside in Orlando, Florida with their two children.
ABOUT THE BOOK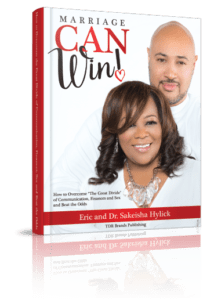 Inside the book, Marriage Can Win Eric and his wife of 17+ years Dr. Sakeisha Hylick provide the strategies and tools necessary to help your marriage to win.  This book is a transparent journey on their quest to being victorious during the most challenges times in their marriage and their desire not to throw their hand up and walk away but to stay and fight for their marriage.
Get your copy