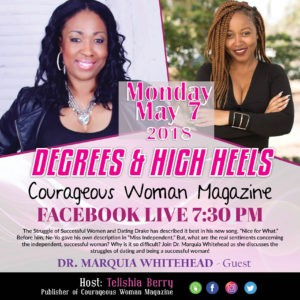 Tune in to our Facebook Live tonight.
My guest: Dr. Marquia Whitehead will be discussing the Struggle of Successful Women and Dating!
Music artist, Drake has described it best in his new song, "Nice for What." Before him, Ne-Yo gave his own description in "Miss Independent." But, what are the real sentiments concerning the independent, successful woman? Why is it so difficult? Join Dr. Marquia Whitehead as she discusses the struggles of dating and being a successful woman!
Don't miss it tonight on Facebook Live 7:30 PM!
Follow Courageous Woman Magazine on Facebook
and Telishia Berry