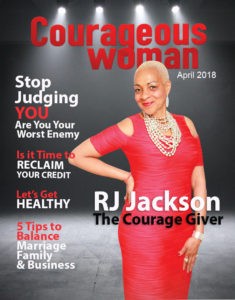 'RJ Jackson: The Courage Giver
Forgiven', 'redeemed', and 'surrendered' are three words that best describe RJ Jackson. She has committed her ordinary life to doing extraordinary things for The Kingdom with those around her in an authentic and personal way. She is dedicated to forming intentional relationships founded on the love of God and leading others as He leads her- wherever that may be. God has blessed her with a servant's heart, and in humble submission, she tries to live out His will in every aspect of her life.
Besides being a daddy's girl, RJ Jackson is a mother and grandmother who enjoy encouraging people to live life on purpose. She is a Christian international leader who has traveled the world for over 20 years inspiring others to fulfill the plan God has for their lives. As an Ordained Minister of the Gospel and as a speaker, RJ Jackson rises to this calling, knowing that she has done nothing to deserve it, but that God has blessed her anyway. With joy and devotion, she seeks to fulfill the role she knows she was created for: offering hope and opportunity to others by sharing the Gospel.
Known as 'The Courage Giver', RJ boldly shares the message, "Be Bold and Courageous ~ You do not have to die where you are living, and you do not have to live where they are dying." And this message is not her own, but in response to Philippians 2:14 "Go out into the world, a breath of fresh air. Provide people with a glimpse of good living and of the living God. Her own story is a testament to the benefits of following one's true calling. Being diagnosed with a rare eye condition at an early age has led her to focus not on what she can see, but on the invisible vision of hope and opportunity that most individuals miss.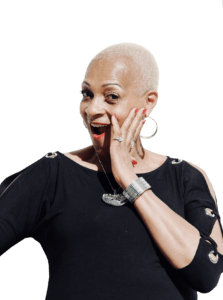 Equipped with unique humor, unflagging energy, and unsparing personal truth along with the Word of God, RJ has shared the gospel in many foreign nations including Bermuda, Puerto Rico, the Virgin Islands, Barbados, and Jamaica and through missions to Cambodia, Kenya, Mexico, Nigeria, Haiti, and Thailand. As a result of going on the mission field, RJ dedicated a year of her life and committed to purchasing an ambulance for the health clinic in Eldoret Kenya.  For over four years, she continues to fundraise to feed the children of Mission of Grace in Haiti.
RJ speaks to many audiences but has one purpose: to help people find the courage to accept the Lord and live their life for Him. She has been recognized in numerous distinguished publications and authored "Conversations of Courage: Stories of Success, Hope, and Possibility Vols. I, II, & III," A Cup of Courage for Your Crisis," and three best-selling books on Amazon, including Stand Still and Watch God Move and Strands of Pearls of The Girls.
With humility she acknowledges that she is who she is not because of what she has done, but because of God and His amazing, redeeming, and all-sufficient Grace. At the end of the day, she serves the world around her not for her own benefit, but for the glory of God. It is her sincerest prayer that God would use her to be a light in darkness and point the lost to the Lord Jesus Christ.
Stay connected with RJ online at http://RJJackson.Life or on Social Media FB@TheCouragegiver and IG @RJJackson.Life
See the full issue here: