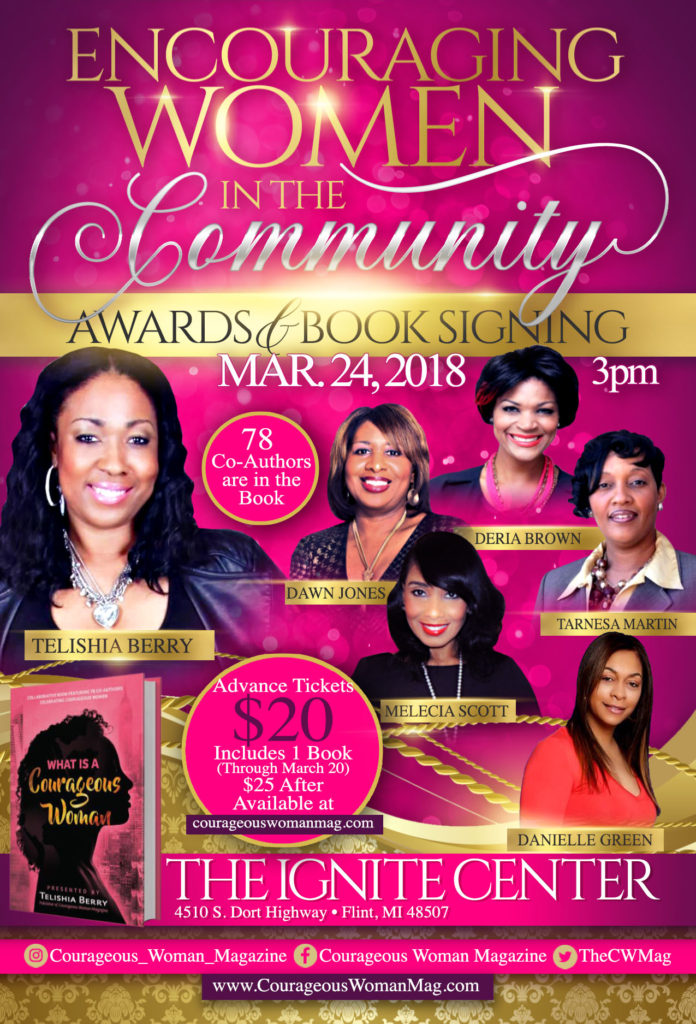 Something Grand is Going to Happen in Flint Michigan!
In honor of Women's History Month, Courageous Woman Magazine is hosting an inspirational event in Flint, Michigan, Encouraging Women in The Community Awards and Book Signing will take place March 24, 2018.
Five amazing speakers will be ready to uplift, encourage and empower the attendants. Nine women and agencies will receive awards for their dedicated services in the community.
PRODUCT COMPANIES- We are donating 40 tickets and 40 gift bags to women in homeless and battered-women shelters. We are asking product companies to donate 40 items or gift cards for the gift bags. We want this to be an exciting Oprah Winfrey-style, gift-giving moment to put a smile on their faces.
We would be so grateful if you would be so kind to donate 40 items for the ladies gift bags. Your business name will be mentioned as a gift sponsor at the event as the ladies are being showered with gifts. Your business name will be included in our media highlights about the event including the April issue of Courageous Woman Magazine. The local and national media are also invited to attend.
TICKET SPONSORS – We are also seeking ticket sponsors. To meet the cost of the event, tickets are $20 and it includes one book. There are women who can not afford to buy a ticket and we are seeking sponsors to purchase more tickets to donate to those women who can not afford the ticket.
Yes, all eyes are still on Flint because of the ongoing water crisis, but despite the negatives, there are good people who do great things in the Flint community and that is why we are awarding women in the community. If you support our efforts by donating gifts, your company can be part of the good things said in the media.
We are also launching our collaborative book, What is a Courageous Woman. The book features 78 co-authors from around the country. Many of them will be there to speak and sign books.
Any additional items given over the 40 will be part our raffle give-a-ways at the event. We welcome companies interested in sharing product samples with the audience members or are authors. All items should be received no later than March 23, 2018
Yes, this is going to be a grand and memorable event and we hope you can see yourself being part of it. Thank you for your support!

Here is a link to the package for more details:
https://www.dropbox.com/s/avarqrn4eifbw3v/GiftBags%20Sponsor%20package3.pdf?dl=0
 VIP SEATING WITH THE FIRST 100 TICKETS purchased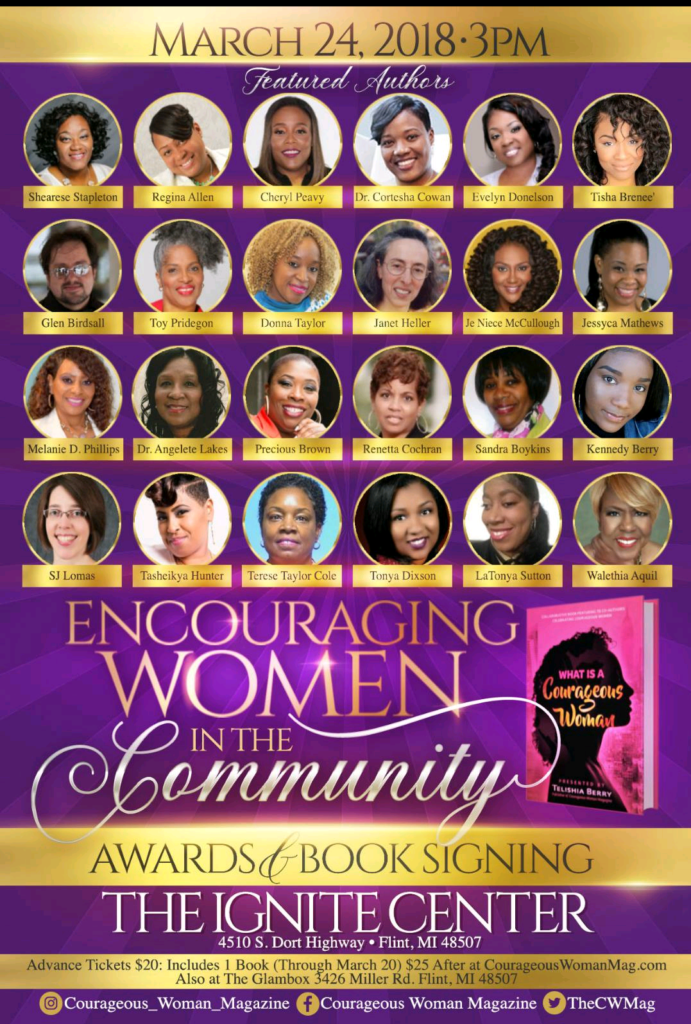 The Glam Box Boutique – 3426 Miller Rd. Flint, MI 48507 (Inside the Summerset Salon Plaza)
Some authors also have tickets
Want to donate tickets?
You're awesome, God Bless you!! Click to buy and kindly write in the notes where you want them to be donated to. Thank you! 🙂 You can Follow-up with an email to us.
Got Questions?
 call 951.704.2079